Get in Line for Fun & Games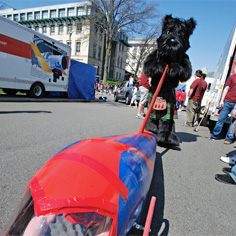 Think of a modern-day, aerodynamic soapbox derby — complete with student-designed, built and powered cylinders racing through campus. You may be beginning to understand "buggy." This weekend is your chance to witness it in person.
Carnegie Mellon University will hold its annual Spring Carnival Apr. 16 through 18. Admission to the carnival — including the buggy races known as Sweepstakes — is free and open to the public.
In addition to the races, Carnegie Mellon student organizations are hosting more than 30 booths on the "Midway." These booths are also student designed and built and they often reach two stories tall. And this year they're focused on the theme "Epic Adventures" — with booths covering "Jack and the Bean Stalk," "Finding Nemo," "A Walk Through Wonderland" and "Back to the Future," to name a few.
Student organizations will compete for a variety of booth design honors, including the Excellence in Environmental Building Practices Award. Gary Saulson, director of corporate real estate for PNC Bank, will present the $500 award to the "greenest" booth based upon materials selection, waste minimization, lighting efficiency and overall environmental stewardship and innovation.
New for 2009, Spring Carnival will feature interactive experiences from Get in Line, a project at Carnegie Mellon's Entertainment Technology Center designed to make waiting or standing in queues more fun and interactive. Campus visitors will have the opportunity to use their cell phones to play games on large community screens. Guests can visit the Get in Line carnival tent to create their own avatars online and track achievements they earn while playing games.
The Sweepstakes buggy races, a tradition since 1920, will be held Friday and Saturday mornings. In the case of inclement weather causing cancellation of the competitions, races will be held Sunday, April 19, during the same time frame.
CmuTV will broadcast full-scale event coverage of the buggy races on channel 17. The student radio station, WRCT 88.3 FM, will also provide coverage, including live interviews and play-by-play commentary.

For more information, go to www.andrew.cmu.edu/org/carnival/.
Related Links: Spring Carnival  |  Alumni Carnival Events
---