Quinto, Pausch Join the Crew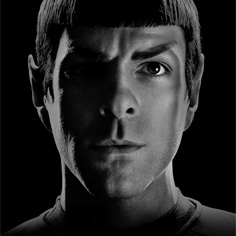 "Star Trek" hits theaters this weekend and two famed Carnegie Mellon alumni are part of the storied crew exploring strange new worlds, seeking out new life and new civilizations.
Zachary Quinto (A'99) has a starring role as the logical Mr. Spock, while beloved Professor Randy Pausch (S'88) exchanges a line of dialogue with the captain of a starship.
Gaining a strong fan-base from his role as Sylar on NBC's hit "Heroes," Quinto landed the role of Mr. Spock in a way Spock himself would have approved — leaving nothing to chance.
In the early days of the film's productions, fans created a wish list for the casting — and Quinto's name was included. After the wish list came to Quinto's attention, he told a friend, "They're making a new 'Star Trek' movie. I think I'm going to play Spock."
He continued to talk about the role in interviews and media appearances. And it paid off.
For Pausch, his role in the film marks the realization of a childhood dream he recounted in his famous "Last Lecture." The lifelong Trekker told a packed auditorium that one of his childhood dreams was to be Captain Kirk. "Star Trek" director J.J. Abrams heard about the dream and emailed Pausch to see if he wanted a role in the film.
"Naturally, I presumed this was one of my friends, playing a prank. But after a little sleuthing, it was clear it was for real," wrote Pausch in a 2007 blog entry about the experience. "... I got a custom-made Star Trek uniform and my own station on the bridge, where I had lots of buttons and controls. I even got a LINE!"
Almost a year after his death of pancreatic cancer, Pausch can be seen on the silver screen this summer, walking across the bridge and saying, "Captain, we have visual."
Use the links below to learn more about Quinto and Pausch:
Put your Carnegie Mellon and Star Trek fandom on display with these free buddy icons (right-click and choose "save as" to download):


Related Links: Star Trek Tech  |  A Star's Trek  |  Super-Villain to Spock  |  Dream Come True  |  USA Today article  |  More on Randy's Lecture
---