Making the Digital Tangible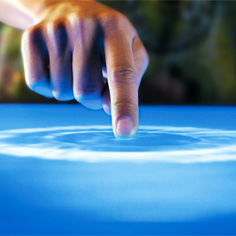 The moment you step off the elevator, you're in another world. Dim lights, touch-screen consoles in front of you, robots to your right — welcome to Carnegie Mellon's groundbreaking Entertainment Technology Center (ETC).
And what they're up to right now brings to mind the sci-fi thriller Minority Report and the ease with which Tom Cruise's character 'flipped through' digital files with no mouse or keyboard. In partnership with global security company Lockheed Martin, the ETC is developing Project 'Souda' — exciting new applications for the Microsoft Surface Table.
A '3-D Toolkit' will allow users to customize gestures for use on the multi-touch surface. For example, with the flick of a wrist, the virtual globe will spin. By integrating Google Maps into a 3-D environment, the Surface Map lets users rotate and tilt maps while simultaneously plotting points and routes.
Then there's the Data Visualization Interface, which will allow them to analyze and manipulate complex scenarios in new and intuitive ways. Oscar Garcia Panella, ETC visiting professor and Souda advisor, offered an example of how the Visualization tool could enable better international security monitoring.
"Is a baby food factory in a hostile area producing nuclear weapons?" he said. "There's a lot of information regarding trucks coming in, satellite photographs, people, telephone conversations, et cetera. [This tool] would allow the data to be input and categorized, and an algorithm using statistics and probability will analyze everything and give you a number, such as a 73% probability, that this is not baby food."
Don Marinelli, ETC executive producer and co-founder, sees great possibilities for the technology.
"We can envision it for a lot of other purposes involving entertainment, education and experience," he said. "It's a way of spurring on creativity, imagination and synergy."
Interdisciplinary production is a key ETC focus and the Souda team is comprised of 11 masters students trained in computer science, interaction design and writing.
"It's challenging just talking, exchanging and understanding each other," said Panella. "Even the same word doesn't always have the same meaning ...what does design mean [in different disciplines]?"
"We teach them to collaborate," added Shirley Saldamarco, ETC supervising producer and Souda advisor.
In just one semester, the team will deliver a working prototype to Lockheed.
"We guide them, but it's their project," explained Saldamarco, stressing student responsibility. "The client comes to them with a challenge and it's up to the students to come up with the best way to solve whatever that challenge is."
"We are practically minded," added Marinelli. "I want the students to solve problems that can, in the broad perspective, make the world a better place, and in a micro perspective, be able to solve a problem for a client."
Related Links: Entertainment Technology Center  |  Souda
---