From Passion to Profit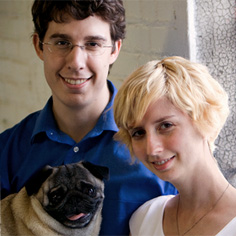 Susan Gregg Koger is passionate about shopping for vintage clothes. With more purchases than closet space — and help from husband and fellow Tepper School of Business alum Eric Koger (TPR'07) — she has turned that passion into "ModCloth."
"My closet was full of vintage clothes I couldn't wear because if I fell in love with the piece, I'd buy it even if it didn't fit me," explained Susan (TPR'06). "I never thought I could turn my hobby into a career."
Susan used to go vintage shopping with her mother and grandmother. When she and Eric began dating, Eric saw an opportunity to turn that passion into an online business.
"I helped her setup the website and get started marketing on the search engines, and then she just ran with it," said Eric, who completed an MBA from the Tepper School of Business with a focus in entrepreneurship. "By the time she approached graduation, she had such a following, that we decided to commit and go for it."
Both natives of Ft. Lauderdale, Fla., they started ModCloth out of Susan's dorm room and as the business grew, chose to keep it in Pittsburgh after they both graduated.
"We've been able to find great space at a really low cost in Pittsburgh," Eric explained. "And there is a high availability of creative talent here as well as few competitors for that awesome creative talent."
ModCloth has more than 1 million monthly users and profitably employs 54 people. Susan searches the world for up-and-coming designers and unique pieces. Meanwhile, Eric uses his web expertise to keep the website running smoothly. According to Google, ModCloth is the #1 website for Indie and Retro Clothing.
Now an internationally recognized brand, ModCloth's website has been viewed by more than 8 million people in the last 12 months. The duo is looking forward to some exciting green initiatives within the company, which they're planning to roll out in 2009.
"ModCloth wouldn't be here today if we hadn't worked on it throughout our education at Carnegie Mellon," Eric said. "Starting early mattered. So if you want to do something, my advice is to get started early because it takes a while to build expertise in something."
Eric also noted that a few professors helped them decide to pursue their own venture.
"The Donald H. Jones Center for Entrepreneurship at Carnegie Mellon really encouraged us to stick with it, and helped me decide to sell my ownership in my first business to pursue ModCloth, which was the bigger opportunity," Eric said.
Art Boni, who is director of the Don Jones Center and the John R. Thorne Chair of Entrepreneurship, said the Kogers deserve the credit for their success.
"I think all the credit goes to them — although we should take a little credit for providing them with the tools and patterns to move forward successfully," said Boni. "They are executing the plan very nicely. They have learned well that all plans change frequently and quick response is needed."
Boni also pointed out, "They have learned that to succeed it is necessary to build a good team and to surround themselves with good value-added advisors and investors. Most importantly, they are listening to the market."
Related Links: ModCloth  |  Tepper School of Business  |  Don Jones Center for Entrepreneurship
---