An Animated Designer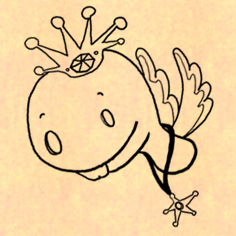 Jung Yeun Paek (A'09) knows how to draw attention — literally and figuratively. The recent communication design graduate created the animation, "Dinky Needs a Friend," as part of her senior studio project.
The piece played a big part in her being honored with the first
'
Animal Award for Motion Graphics' — established by
Michael Killen (A'86)
.
A fellow design alum, Killen co-founded
Animal
— a revolutionary Pittsburgh-based production and visual-effects firm famous for its talking animals, including the Taco Bell Chihuahua and the Real California Cheese cows.
Paek was thrilled when he presented her with his first award, and the chance to meet and talk Carnegie Mellon design.
"Mr. Killen invited me for lunch," Paek enthused. "He gave me a full tour of the studio and showed me their work. It was great because he was down-to-earth and my professors were his professors, which is really interesting."
Paek's artistic bent was sparked early by a water-colorist mother and an architect sister. Looking for a way to blend her love of art and communication, Paek's mother wisely suggested Carnegie Mellon's communication design department and her father encouraged her to attend as well.
While in school, Paek took advantage of the variety of educational opportunities. Looking to get out and interact with the community, she jumped at the chance to participate in the
Fitwits project
, a health education program targeting adolescents.
"Fitwits was the perfect experience because I wasn't just working in the studio with a professor," Paek explained. "We actually went out in the community and talked with local people in Pittsburgh. We tried to work with the kids to see how they interacted with whatever we designed. It was very beneficial."
Paek's work on Dinky reflects what she loved best about Carnegie Mellon — the people.
"My professor on my senior student project, Dylan Vitone, is great — and he offered incredible support on my Dinky project," explained Paek. "In the School of Design, there's only about 40 or 50 of us per year. It's pretty small, so everybody's like a family and the professors know what's going on in our lives. Everybody's very close."
She especially appreciated the student mix.
"I definitely like the diversity of our students," Paek explained. "I'm glad I didn't go to art school because I get a lot of inspiration from people not just from design, but from my friends in philosophy or business. Carnegie Mellon helped me a lot. I tell a lot of people they should apply because it's such a great experience."
Related Links: School of Design  |  Communication Design Program
---