Takin' It to the Streets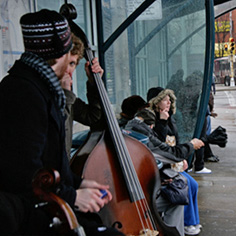 A team of Carnegie Mellon University students from different artistic disciplines is taking their music to the streets. They are performing 10- to 30-minute operettas at public bus stops in Pittsburgh and New York City.
The project, called "Bus Stop Opera," includes lyrics taken from overheard conversations or personal interviews with passengers taking public transportation in Pittsburgh. Students sing these conversations-turned-lyrics in an opera. A small chamber ensemble accompanies the singers.
"The project is important to the students because they get the chance to see an immediate, public reaction to their creative product," said Dawn Weleski (A'09), a student and the creator and artistic director of the project. "Usually, they are relegated to galleries, studios, practice rooms and stages. You never truly know what the audience thinks about your creative product."
Eliot DeGolia (HS'10), a linguistics major and euphonium horn minor, commented on the impact the experience is having on him.
"I did not expect to learn as much as I did — not only about the Pittsburgh area, public transportation, or different forms of art but also my own abilities as a creator and an interdisciplinary collaborator," said DeGolia, who performed and composed parts of the operettas and designed the website.
He added that the experience "opened up and expanded my capacity as an artistic creator, both as a musical composer and as a web designer. I have discovered new hidden talents and am excited to continue using them for the project."
Weleski reports a positive reaction overall by "audiences."
"They smile and laugh when 'Sergi' and 'Britney' become a couple in front of their eyes," she said. "And they nod in agreement and empathy with 'Joey' as he 'just wants to get from A to B.'"
During performances, audience collaboration is encouraged. At the completion of each opera, cast and crew use public transit to travel from one bus stop to the next. Sometimes they even perform en route to the next performance location.
Bus Stop Opera is funded by an interdisciplinary grant from Carnegie Mellon's School of Art. Operettas can be seen from 11 a.m. to 2 p.m., April 25, on the East Busway. Then, it's on to the Big Apple. Students will perform May 1 from 3-7 p.m. and May 22-24 at bus stops in New York City.
Related Links: Watch Post-Gazette Video  |  Bus Stop Opera.com  |  School of Music  |  College of Fine Arts
---