A Classical Gift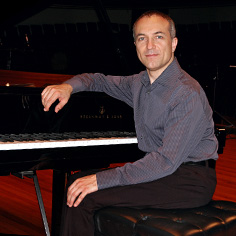 Sergey Schepkin, internationally renowned pianist and associate professor at the Carnegie Mellon School of Music, was recently honored with a special accolade. Named to the exclusive list of Steinway Artists maintained by the legendary piano maker, he joins such notables as Sergey Rachmaninoff and Arthur Rubinstein.
Schepkin began his musical studies as a small child in St. Petersburg, Russia, and was quickly accepted into a highly competitive school for gifted young musicians. He went on to study at the St. Petersburg Conservatory and the New England Conservatory in Boston. He joined the Carnegie Mellon faculty in 2003.
Along the way, Schepkin developed a broad love of music and voracious appetite for learning, extending to all types of classical music, including more current works.
"The piano repertoire is immense," he explained. "If you include the pieces that were written for earlier keyboard instruments, and works from all the times and styles, several lifetimes are probably not enough to play all of it."
Even so, he's interested in all of it. While his extensive range includes important works spanning centuries, Schepkin has received particular acclaim for his performances and recordings of J.S. Bach.
He has performed with renowned orchestras from the St. Petersburg Philharmonic to the Boston Pops, and recently returned from a successful performance in Tokyo, Japan, where he's already been asked to return to play more Bach, as well as a Russian program.
Schepkin's enthusiasm for musical performance is enhanced by his pleasure in working with students.
"I like communicating with younger musicians," he said. "I am happy to help them find their own voices, to make their musicianship stronger, to make their interaction with the musical world more significant. I also enjoy the inspiration they give me. I like the exchange of ideas."
He views Carnegie Mellon as unique in a number of ways.
"Being at Carnegie Mellon has made many of my ideas crystallize in ways that I could hardly imagine. It's been a fascinating time," he noted, reflecting on his own development while at the university.
"I find that as part of a large university, this environment can be very beneficial to our students," he said, "because they can take any courses they want in addition to music. People who are interested in multiple disciplines can have a richer and more varied experience."
It's an experience Schepkin says not only assists well-rounded students but also helps music majors to become more aware of the world and its culture.
Related Links: School of Music  |  Schepkin's Bio  |  Schepkin's Website  |  Recordings
---