Designing a Future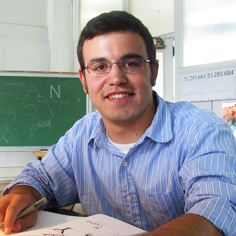 Creative from the start, Nick Abele (A'12) knew early that he wanted to study graphic design. Inspired by a high school art teacher, he began researching colleges offering the very best training. After visiting Carnegie Mellon, his mind was made up.
"When I toured here, I was really impressed by the facilities and the community atmosphere — especially at the School of Design," he said. "That put Carnegie Mellon at the top of my list."
Abele's supportive family knew, however, that their son would need financial help. Luckily, the gifted artist and student was awarded a Shapira scholarship to attend the school.
"The scholarship contributes in an extremely major way," Abele emphasized. "I wouldn't be here at Carnegie Mellon if it hadn't been for that."
Now in his sophomore year, Abele is just as enthusiastic as during that first campus tour.
"Just being here for a little over a year, it's really changed and challenged my perceptions of a lot of things — of the world, of my major, of different people," he explained. "Carnegie Mellon is a very unique experience that I doubt I would have been able to receive anywhere else. Academically and socially, it's a huge opportunity for me to grow."
Abele says the sense of community, especially in the School of Design, is a very unique aspect of the university, and is a particularly important part of his college experience.
"The people within the school share such a close bond, and that contributes to the close-knit atmosphere. The students work on all of these projects in a very professional setting, and at the same time, it's very collaborative."
Keenly aware of his good fortune, Abele is committed to returning the kindness. He says the Shapiras and their generosity have made such an impact on him that, if he's able, he'd love to give other students the kind of opportunity they gave him.
"It has really meant a lot to me to have somebody take a chance on me, to make an investment in my future. I think it's part of the tradition of attending a school like this — giving back Carnegie Mellon to somebody else, maybe even better than it was given to you."
He added, "When Carnegie Mellon said 'we'd like to give you the scholarship,' that made the difference," Abele said. "It made the dream the reality ... really."
Related Links: School of Design  |  Student Support
---