Designers Honor Pausch's Memory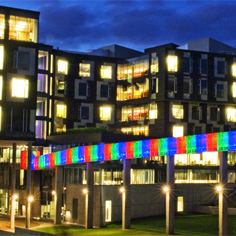 Chances are you've either read the book or seen the lecture — or both. Now, visitors to Carnegie Mellon University in Pittsburgh can be inspired all over again as they stroll across the bridge designed to honor the memory of Randy Pausch, the world-famous Carnegie Mellon alumnus and professor who delivered "The Last Lecture."
Professor of lighting design Cindy Limauro and husband Christopher Popowich — both principal lighting designers at C & C Lighting —  used imagery from Pausch's book to illuminate the bridge.
"I remember when Randy first started teaching at Carnegie Mellon, he immediately reached out to the School of Drama looking for ways to collaborate," said Limauro. "He especially appreciated the importance of lighting in creating atmosphere and mood."
Pausch was a pioneer in bridging technology and the arts to create innovative experiences and solutions, such as the Alice 3D programming environment which teaches introductory computing. The bridge mirrors Pausch's commitment to the intersection of art and science by joining one of the university's fine arts buildings, Purnell Center, with the new Gates & Hillman Centers, the home for computer science at Carnegie Mellon.
Lighting for the Pausch Bridge is an abstract collection of visual metaphors from the book. Bridge panels start in darkness then fade upward to white light and eventually change to the Pausch family's favorite colors — illustrating "fun with crayons."
Water imagery and motion are also depicted, to suggest the idea of penguins jumping into water. Pausch reminded students that even in dangerous waters, one penguin had to be brave enough to take the first dive. The design of the Pausch Bridge pays tribute to all the "penguins" of the world with abstract penguin cut-outs.
"The most memorable moment for me was 'The First Penguin Award,'" said Popowich. "It allowed students to take on a big risk without being afraid to fail. In fact, awarding successful failure was a brilliant idea."
Lighting along the brick wall at the bridge's end simulates a rocket blasting off while the bridge panels create a panorama of space, a reference to Pausch's passion for Star Trek. (Read more on visual metaphors in the Pausch Bridge lighting.)
Limauro has always found lighting to be magical, whether it's a beautiful sunset or a room lit by candles.
"As a lighting designer, I understand how lighting impacts what we see and how we feel," Limauro said. "So I always want to create a memorable experience, whether it's for people in a public space or an audience watching a play."
Popowich considers working with such an intangible medium an incredible challenge and experience.
"I feel there are two major challenges for me when it comes to lighting design.  The first is not to become complacent in my design ideas or get into the habit of just resurrecting old ideas," he explained. "I want every project to be its own unique world."
He says the second challenge is staying current with the technology. The Pausch Bridge uses more than 7,000 programmable (and environmentally friendly) LED lights from Color Kinetics — now part of Philips. (Read more about Color Kinetics and its Carnegie Mellon ties.
"The technology is changing so fast at times that one can get overwhelmed, but at the same time that's what allows you as a designer to dream," Popowich said.
Pausch probably couldn't have said it better himself.
(The Randy Pausch Memorial Bridge was designed by Mack Scogin, Mack Scogin Merrill Elam Architects.) 
Related Links: Video of Lighting  |  The Pausch Bridge  |  Entertainment Technology Center  |  College of Fine Arts  |  Alice.org
---