Jeffrey Zaslow's Storytelling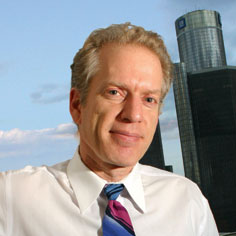 US Airways Capt. Chesley Sullenberger had quite a story to tell, having piloted the plane that crashed "safely" into the Hudson River. Heart-stopping as it was, Carnegie Mellon alum Jeffrey Zaslow (HS'80) believed there was more to the tale.
"It's a beautiful, big story," said Zaslow, who co-authored the pilot's new book, Highest Duty. "It was a short flight, but the story of his life led up to that moment."
Zaslow is also co-author of The Last Lecture, a bestselling sensation with more than 4.5 million copies in print in the United States alone.
After driving 300 miles to attend Carnegie Mellon professor Randy Pausch's now world-famous presentation, Zaslow wrote about it poignantly and memorably in his widely-read Wall Street Journal column, 'Moving On'. His words ended up being the spark that ignited a wildfire. The book followed, drawing on the lecture and interviews between Zaslow and Pausch — some 53 cell phone conversations during Pausch's daily bike rides.
"The hardest thing was discussing what would be in the last chapter — because he had to think about the end of the lecture, the message to his kids, the end of his life," Zaslow recalled. "That's the only time we both choked up. Other than that, we shared a lot of laughs."
Zaslow was recently in Pittsburgh as the keynote speaker for the Good Grief Center for Bereavement Support, reflecting on his time with Pausch. It was a logical turn for the journalist — a student of human nature who spent years dispensing advice after succeeding Ann Landers at the Chicago Sun-Times, and more recently through his column.
Shortly after the conference, Zaslow was back in Pittsburgh to accept a 2009 Alumni Award for distinguished service from Carnegie Mellon. He finds himself back on campus more often since writing The Last Lecture.
"President Cohon had said to Randy on the day of the lecture, 'People are going to come to this school. They won't know you, but we'll tell them about you,'" Zaslow recalled. "I came back to speak this past year to the freshman class and there we were, telling them about Randy, just as President Cohon had said."
Zaslow is grateful for the foundation and experience he received at Carnegie Mellon, adding, "As editor of the Tartan, I learned a great deal about journalism. More importantly, I saw all these special and gifted kids, from drama, from engineering — I learned about the vast array of talented people out there in the world."
And it's those people he's showing to the world through his books — helping heroes tell their stories.
Related Links: Highest Duty  |  The Last Lecture  |  Watch The Last Lecture
---