Paula Wagner, Steven Bochco Visit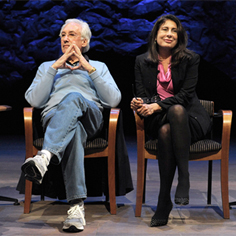 Paula Wagner and Steven Bochco, two of Carnegie Mellon University's most notable alums in Hollywood, came home this fall to share insights, wisdom and advice with students in the School of Drama.
Wagner became the first female agent at the Creative Artists Agency (CAA), producing numerous blockbusters including Mission Impossible I, II, III; The Others; and The Last Samurai.
A writer and producer, Bochco is best known for his groundbreaking television work including Hill Street Blues, LA Law and NYPD Blue.
"It's an extraordinary event ... what I think has been a great celebration for two days in the company of two remarkable people," said Peter Cooke, head of the School of Drama, as he introduced the pair at the start of a panel discussion.
Bochco considers his education as a writer invaluable. "But my world education — in terms of learning about a community of like-minded artists — was probably the singularly most important thing I took away from my years here on campus," he said.
Wagner, who is also a trustee of the university, said the most important thing she learned here was how to learn.
"So much of my education came after college when I was thrown into the real world, but learning how to learn is a very important quality that I got from this school," Wagner said.
Both stressed the importance of being a good collaborator and that you've got to work as hard at getting a job as doing a job.
Alana Kainani Clapp (A'10) spent time in a small group discussion with Bochco — one of many he and Wagner participated in during their Oct. 6-9 visit to campus.
"He was open and welcoming, offering his personal assistance to us if we found ourselves with more questions later," Clapp said. "It was a pleasant surprise to meet someone of his caliber, to be so accessible, and you could tell his interest in the well-being of the students was genuine."
Drama student Frank Capello (A'10) appeared to glean equal parts hope and reality during the visit.
"One of the greatest things about spending time with Paula Wagner was that it affirmed the idea that there are truly creative, innovative, encouraging and kind people who exist and work at that level of the entertainment industry," Capello said. "It was like a beacon of light shining through an incredibly stark, realistic view of what my future in the movie business might be."
Related Links: Watch the Panel on YouTube  |  Watch the Q&A  |  School of Drama
---