Alums Light Up Primetime & More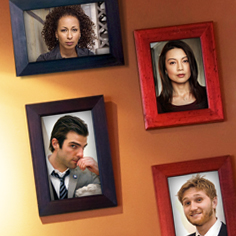 As you set your DVR for the new fall shows, be sure you don't miss the ones that feature Carnegie Mellon's talented alums — on screen and behind the scenes.
"Carnegie Mellon's School of Drama is one of the world's leading educational institutions focused on preparing young artists for careers in the theater and entertainment industries," said Peter Cooke, head of the school.
"Housed in state-of-the-art facilities, and with a distinguished faculty," he added, "the school is a conservatory with a progressive approach to educational models, theater making, research and the exploration and incorporation of new technologies into all aspects of dramatic practice."
Below is just a sampling of School of Drama alumni who are continuing to build on the one of-a-kind drama education they received at Carnegie Mellon as they hit primetime this season:
Matt Bomer (A'00) stars in USA Network's "White Collar"
Abby Brammell (A'01) appears on CBS's "The Unit"
Anthony Carrigan (A'06) plays Tyler Davies on ABC's "The Forgotten"
Ted Danson (A'72) is now featured in the HBO series "Bored to Death" and appears regularly on HBO's "Curb Your Enthusiasm." He was nominated for an Emmy for Outstanding Guest Actor in a Series for his role in "Damages"
Cote de Pablo (A'00) appears on CBS's hit drama "NCIS"
Paloma Guzman (A'06) appears on "The Good Wife" on CBS
Holly Hunter (A'80) returns this season to "Saving Grace," for which she was recently nominated for an Emmy
Cherry Jones (A'78) received an Emmy for her portrayal of President Alison Taylor in the FOX hit series "24", a role she is continuing this season
Ming-Na (A'86) plays Camille Wray in the Syfy Channel's new series "Stargate Universe"
Zachary Quinto (A'99) returns as Sylar on NBC's "Heroes"
Aaron Staton (A'04) returns for another season of AMC's award-winning "Mad Men"
Tamara Tunie (A'81) returns to NBC's "Law and Order: SVU"
Now, among the brilliant minds making things happen behind the scenes are these Carnegie Mellon alums:
Steven Bochco (A'66) produced "Raising the Bar" on TNT
Eduardo Castro (A'76) is costume designer for "Ugly Betty" on ABC
Arthur Chadwick (A'97) is the set designer for CBS's "Accidentally on Purpose"  
Alison Schmidt (A'97) is the costumer for CBS's "Three Rivers" 
John Wells (A'79) produced NBC's "Southland"
In other entertainment news, movie-goers will find Katy Mixon (A'03) in the new film "All About Steve," starring Sandra Bullock. Gabriel Macht (A'94) garnered a starring role in "Whiteout," and Patrick Wilson (A'95) will star in two upcoming films "Barry Munday" and "Morning Glory."
Related Links: School of Drama  |  CMU Showcase  |  College of Fine Arts  |  Alumni
---