The Window of Popular Culture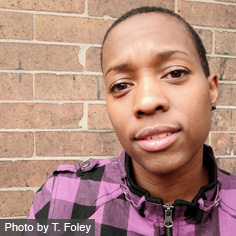 An associate professor in the School of Art, Ayanah Moor has examined a broad range of timely issues over her 10 years at Carnegie Mellon — transforming themes from popular culture to create new meanings and dialogue.
"My work explores the way popular culture is an articulation of our desires, our fears, our fantasies," Moor explained. "It can both reflect and impact the things we want, which is a fascinating cycle."
An artist keen on exploring the 'inverted' perspective, Moor recently completed "Souljah-Sotomayor" — a project now on exhibit at the Urban Institute for Contemporary Art in Michigan.
"It [examines] the ways in which cable news programs reduce journalism to spectacle," she said of her work. "It's a project that looks at the line between celebrity, controversy and politics."
Her work also focuses on topics like the politics of speech, the relationship between academia and financial success, and gender identity and sports practice. In exploring the latter theme, she draws on personal experience as a running back for the Pittsburgh Passion, a full-contact, professional women's football team.
Moor came to Carnegie Mellon after receiving her graduate degree, focusing on print media, including lithography and concept studio, idea generation courses.
"It was a way of bringing a new voice to the university and for me to have an environment where I could explore teaching and at the same time stay in my studio " she said. "It was just a great opportunity."
Particularly grateful for the encouragement she found at Carnegie Mellon, Moor added, "It goes back to the support both for my artwork as well as my teaching. For example, I was able to introduce an academic course called Hip Hop and Contemporary Art. It's really great when you're at an institution where your research is valued and can add to the curriculum."
Moor teaches both introductory and advanced level courses, and values the time spent working with her students.
"The Carnegie Mellon students come in with a lot of skills. They're typically creative and thoughtful," Moor noted. "It's been really fun to both challenge them and be challenged by them. I think my job is to build a spark, to nurture their interest to a point at which they don't need my guidance. I want them to take risk and feel confident."
Related Links: School of Art  |  Moor's Bio  |  Moor's Website
---