Technology Bringing People Together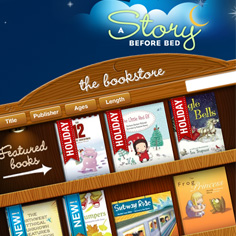 Families separated by the miles can feel a little closer to each other thanks to software created by Carnegie Mellon alum Walter Smith (MCS'87).
"A Story Before Bed" lets parents and grandparents record a story into a webcam that their children and grandchildren can page through anytime they're in need of comfort. (Try a free demo.)
"Our goal at Jackson Fish Market is to make beautiful software that connects with people and improves their lives," said Smith, who started the software company with Hillel Cooperman and Jenny Lam. "I think 'A Story Before Bed' is our best attempt so far. It's interesting to work on from a technical perspective, and also makes people really happy."
Whether it's a holiday gift or simply a reminder that mom is close by even though she's on a business trip, "'A Story Before Bed' is connecting children to those they love most. Even kids themselves can show off their reading skills by recording their own storytelling," Smith said.

Smith's passion is in learning and building new tools.
"The great thing is, I get to combine both of those passions," he said. "The way our company works, we're always thinking of new things to build, and they usually require at least one technology I don't yet know."
Smith says there's no question that spending time in the computer science environment at Carnegie Mellon accelerated his career.
"Everybody in the computer science department had a very open attitude, and a built-in bias toward getting stuff built and making things work. That was good reinforcement for me," Smith said.
"I was able to work on 'real' projects and exchange ideas with some very smart people, even as an undergrad," he added.
Related Links: Try a Free Demo  |  About A Story Before Bed  |  Jackson Fish Market.com  |  Dept of Computer Science
---