Educational Highlights for Fall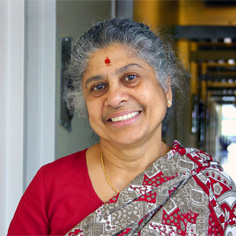 With the onset of fall semester comes a whole host of learning opportunities for Carnegie Mellon students that range from casual discussions to notable lectures to weekend courses.
"Providing a rich environment for learning in and out of the classroom is a vital part of the Carnegie Mellon education," said Indira Nair, vice provost for education and professor of engineering and public policy at the university. "Many of the events, courses and learning experiences offered this fall show our commitment to having a variety of experiences available to the Carnegie Mellon community."
Incoming students have already taken advantage of opportunities to sit down with faculty and staff — and each other — to discuss Randy Pausch's bestselling book "The Last Lecture," based on his now-famous talk.
Another highlight this semester is a special weekend course called "India Today: Industry, Innovation and Education." This short course will guide students as they explore how these three factors interact in the country and in the perceived position of India as a world economy.
"My plan is to offer a weekend course focused on one country like this each semester," Nair said, who indicated that courses on China, Brazil and Russia are slated for the near future.
In addition to the regular disciplinary courses various initiatives — such as the university's "Greening of Undergraduate Education" and the president's global courses initiative — have given faculty opportunities to create interdisciplinary courses that develop themes to promote environmental and global literacy.
Other programs include "Big Questions" through which first-year students explore the "big questions" of life and work via informal discussions led by faculty in the residence halls.
And as always, the University Lecture Series has an exciting line-up of notable speakers prepared. Among them are Steven Greenhouse, labor and workplace reporter at the New York Times who will discuss one of today's hottest topics, "The Big Squeeze: Tough Times for the American Worker" on Sept. 22.
On Oct. 16, speaker, professor, writer and consultant Steve Robbins will discuss issues of diversity, inclusion and cultural competence during his lecture, "Unintentional Intolerance."
On Oct. 27, the university will feature Bill Reinert, National Manager of Advanced Technology for Toyota Motor Sales, USA. His primary function is to coordinate Toyota's various research, development and marketing activities related to alternative-fueled vehicles and emerging technologies.
Check back here often for updates on the University Lecture Series including dates, times, locations and featured speakers.
Related Links: Search Disciplinary Courses  |  Greening of Undergraduate Education  |  Environmental & Global Literacy
---