Check Out Drama's 2008-09 Season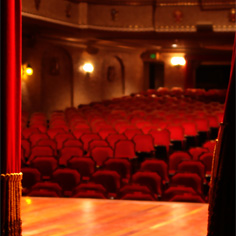 The curtain is about to rise on the School of Drama's 2008-09 season at Carnegie Mellon University. Theater-goers can look forward to a spectrum of delights, ranging from powerful acrobatics to the best of Stephen Sondheim to a masterfully crafted Tony Award-winning score and much more.
Running Oct. 2-11 is "The Other Shore" in which Nirvana-seekers cross the river of life to the promised land beyond only to find that pain, suffering, deceit and danger exist there as well.
Written by Gao Xinjiang, the performance emphasizes physical strength and dexterity, acrobatics and tumbling, chanting, stylized movement and gesture. The setting of his plays are typically minimalist with integrated soundscapes and a saturated and heightened visual world.
Master lyricist and composer Stephen Sondheim is at his best in his collaboration with James Lapine for "Into the Woods," which runs Nov. 13-22. The play twists the stories of Cinderella, Jack the Giant-Slayer, Little Red Riding Hood and Rapunzel into a single masterpiece with a Tony Award-winning book and score.
Helen Edmundson's theatricalization of the George Eliot novel "Mill on the Floss" opens with the drowning of Maggie Tulliver as a witch — a final punishment for her daring unconventionality. As a woman in the 19th century, Maggie must pay an awful and drawn-out price for her inability to fit in to her repressive rural society. The show runs Dec. 3-6.
Don Wadsworth, a professor of voice, speech and dialects at Carnegie Mellon, directs Edward Ravescroft's hilarious comedy "The London Cuckolds," which will run Feb. 19-28.
In an unusual directorial move, Wadsworth cast three faculty members to portray the story's three duped husbands. Wadsworth said the play has been rarely produced due to its size and the special talents required of the cast as well as scenery and costume designers.
The month of April will feature a cabaret called "A Bite of Brecht" as well as "The Illusion," which reveals a profound truth about the relationship of theater to the human struggle. For more information on tickets, times and locations, visit the School of Drama website.
Related Links: Buy Tickets  |  College of Fine Arts
---