Leveraging Advanced Design Tools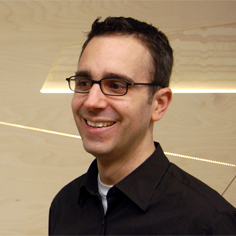 Carnegie Mellon's School of Architecture recently celebrated the grand opening of their digital Fabrication Laboratory (dFAB).
Located in Margaret Morrison Carnegie Hall, the lab is a "hands-on" facility. It enables students to explore and experiment with digital design, manufacturing and communication technologies in the conception, design and development of new architectural and urban design projects.
"The lab provides a necessary and progressively seamless bridge between the virtual and physical worlds," said Jeremy Ficca, the lab's founding director. "[It] will equip young professionals with the critical thinking skills to thrive in increasingly fluid and technologically sophisticated models of practice."
For months before the opening, Ficca and a group of undergrad architecture students used the lab's industrial-grade computer-controlled milling machine to design, prototype and fabricate partitions, display surfaces and furniture located throughout the lab.
Approximately 3,000 sq. ft., the lab's prototyping and manufacturing equipment allows for this kind of 2- and 3-dimensional additive, subtractive and deformation work. High-end computer-aided manufacturing workstations provide access to advanced fabrication and simulation software.
Additionally, the lab has recently received a significant donation from The Enkeboll Foundation, located in Los Angeles, toward the acquisition of a six-axis robotic machining cell. With this tool, the School of Architecture joins a handful of universities worldwide exploring automated methods of fabrication and assembly.
"The lab has really expanded our ability to realize ideas, whether it is through 3-D printing, CNC milling or vac-u-forming," said Andrew Werner, an undergrad architecture major. "By pushing the limits of each particular machine throughout the process of design, they become more than just a means to an end."
He added, "Above all, the most intriguing aspect is not in the fabrication of our final projects, but in the use of the machinery to further the design process itself."
Laura Lee, head of the School of Architecture, believes the lab is well-matched with the university.
"This facility is a natural fit in a school of architecture with a strong legacy of innovation in design education and at a university renowned for the advancement and application of technology," said Lee.
Related Links: dFAB  |  School of Architecture  |  Enkeboll Foundation  |  College of Fine Arts
---