Presented by School of Drama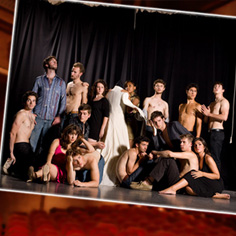 Carnegie Mellon's School of Drama presents "The Other Shore" Oct. 2-11 in the university's Philip Chosky Theater. Written by Gao Xingjian, winner of the 2000 Nobel Prize in Literature, the play explores humanity's struggle to transcend suffering and attain nirvana.
"This production should prove to be an exciting challenge to our students and our audiences in exposing them to a different world-view of storytelling," said Dick Block, interim head of the School of Drama.
Marking the first presentation of a Chinese play in the School of Drama's regular season, the production of "The Other Shore" captures the profound physicality of Gao's works and the emphasis on character that unites his plays. Integrated soundscapes and a minimalistic set showcase the actors on their journey to cross the river of life and reach nirvana — "the other shore" of Buddhist tradition.
The first Chinese recipient of the Nobel Prize in Literature, Gao sustained more than 20 years of persecution and censorship in his native country before emigrating to France and becoming a successful playwright.
As part of a new, season-long initiative at the School of Drama, students in the Dramaturgy Program will hold talkbacks with the audience, cast and crew following the evening performance of "The Other Shore" on Oct. 7. The dramaturgs are also available to discuss the play with classes, student groups and public organizations. Contact Michael Chemers, dramaturgy option coordinator, at chemers@andrew.cmu.edu or 412-268-2399 to schedule a session.
For additional information about ticket purchases and the upcoming season, contact the School of Drama box office at 412-268-2407 between noon and 5 p.m., Monday through Friday. Tickets can be purchased online at www.drama.cmu.edu.
Pictured: The cast of The Other Shore: Tristan Farmer, Will Brill, Peter Albrink, Michaela Watkins, K.C. Wright, Lara Hillier, Jonathan Freeman, Bradley Horwitz, Adam Berry, Sonja Field, Charlie Murphy, Shu-nan Chu, Sonja Field, David Berger-Jones, Ian Harding and Ethan Saks. Photo by Joshua Franzos.
Related Links: Dramaturgy at Carnegie Mellon  |  School of Drama
---