'Twas the Night Before Christmas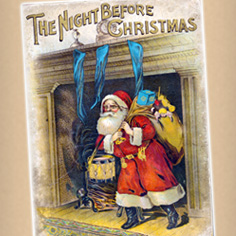 A rare book collection of 'Twas the Night Before Christmas is available for study and enjoyment in Carnegie Mellon's Hunt Library — part of a larger collection of fine and rare books that includes historic material from around the globe, covering a variety of cultures and topics.
The collection's nearly 400 editions of Clement Clarke Moore's poem span 150 years, starting with a Troy Sentinel from 1823, the first printed appearance of the poem. A variety of illustrations since then show similarities and differences in how the Santa Claus tradition was interpreted — from gifts given to just how tiny the "eight tiny reindeer" were.
"It's interesting to note the appearances of material culture over the years," said special collections and design librarian Mary Kay Johnsen, who pointed out that a 1958 edition illustrated by Florence Sarah Winship features up-to-date toys such as a jet airplane, a Betsy Wetsy doll and accurately designed roller skates.
"And every now and then, there are some wonderful examples where children have figured out the system and they hang up their union suits for Santa instead of their stockings," she mused.
Johnsen's favorite editions include a 1937 version by Thelma Gooch, which was the first to show toy dump trucks, and Eleanora Madsen's 1940 book. Madsen's version contains a kind of miniature story-within-a-story at the bottom of its pages, inspired by medieval illuminated manuscript tradition known as "bas-de-page."
"And only one edition in the collection contains an illustration of telephone wires," Johnsen said. "It's hard to believe no one else acknowledged Santa Claus having to cope with the telephone wires, given all the reindeer and their antlers."
Johnsen, a baby boomer, grew up with the Little Golden Book edition bought at the grocery store.
"From the 1960s, we grew up remembering Santa in hot pink," she recalled.
Anne Lyon Haight, the collection's original owner, shared her books with the public — allowing them to be shown at the Hunt Institute for Botanical Documentation, the City Museum of New York, Yale University Library and the Library of the State University at Albany. Through the generosity of her children and the Hunt Foundation, the books are now permanently housed in Carnegie Mellon's University Libraries.
Other rare books in the university's collection include printing by Benjamin Franklin and his book of electricity experiments; African masks; Charles Darwin's On the Origin of the Species; medieval manuscripts; Swiss posters and Mary Shelley's Frankenstein.
Related Links: View Slideshow  |  University Libraries  |  Posner Center
---