It's Saturday Night!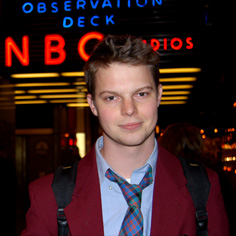 Talk about living your dream. Alex Andrews (HS '09) has spent the fall semester interning for the organization at the center of so much presidential buzz — Saturday Night Live.
"To be a part of this explosion of the politics, the entertainment industry... it's just been overwhelming and amazing at the same time," Andrews exclaimed.
While quick to acknowledge the coffee-fetching realities of intern life, he's been thrilled to work on the 17th floor of 30 Rockefeller Plaza, witnessing the creation of a live show week after week.
"I get to look at everything," Andrews explained. "How they choose what shots they take, what they say to the actors, how they get different angles. It's the most amazing experience I've had in my entire life."
All fun aside, Andrews is in New York combining his love of entertainment with a serious Carnegie Mellon education. Majoring in decision sciences, he's studying supply chain management and behavioral decision-making as it applies to a national weekly production.
"My goal is to look at the pipeline for SNL, which is a one-week pipeline, and apply that to business infrastructures," he added. "Even though it's a creative industry, it's still business-oriented — how they come up with an idea, where it goes to next — all the things it takes to get something done."
Andrews credits the department of social and decision sciences with letting him apply all his different interests to "a broad spectrum of different outlets." His coursework has also included projects at Carnegie Mellon's Entertainment Technology Center.
"I want to make the best decisions I can for the entertainment industry," he explained.
Andrews has already launched an on-going production of his own. Last year, he and fellow student Jeremy Neuberg created the CMU Variety Hour. The 40-member team now has a number of shows to its credit, and recently opened for Bill Burr during Homecoming.
Andrews views the variety hour format as the perfect comparison to his Carnegie Mellon experience.
"It's the same analogy, the fusion of disciplines, or perspectives, not only in terms of academics but in terms of people enjoying their entertainment," Andrews explained. "Collaborating with others, in one hour — that's the ultimate entertainment in my mind."
Photo by Jacqueline Hur
Related Links: Social & Decision Sciences  |  Saturday Night Live
---