Legend in the Making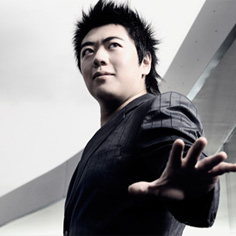 He sells out concerts around the globe and has been called "the hottest star on the classical music planet" by the New York Times. At the age of 26, Chinese pianist Lang Lang is currently one of the most famous, in-demand classical musicians in the world.

He recently led a master class on campus in Carnegie Mellon's McConomy Auditorium. The master class, which featured three student pianists, was co-sponsored by the Pittsburgh Symphony Orchestra and Carnegie Mellon School of Music.

Called a prodigy by many in the industry, Lang Lang won his first piano competition at the age of five and was accepted to the Curtis Institute of Music at the age of 14. At 17, Lang Lang stepped in to play Tchaikovsky's Concerto for the "Gala of the Century" with the Chicago Symphony. He has appeared on "The Tonight Show with Jay Leno," "Good Morning America" and "60 Minutes." He has been featured worldwide in Vogue, GQ, Die Welt, Reader's Digest and People magazine. Lang Lang has performed for a number of global leaders such as Prince Albert II of Monaco, President George H.W. Bush, Her Majesty Queen Elizabeth II, President Hu Jin-Tao of China as well as President Vladimir Putin of Russia.

Noel Zahler, Head of the School of Music said, "It is a unique privilege for us to host Lang Lang at Carnegie Mellon School of Music. His work with our students will transform their lives and careers. We are grateful to Lang Lang and our partnership with the Pittsburgh Symphony Orchestra for making this opportunity possible."

Rishi Mirchandani, age 11, of Carnegie Mellon's Music Preparatory School, will perform in the master class, as will Carnegie Mellon School of Music student Junyi (Jimmy) Liu and Xiaoyuan (Shannon) Huang of Duquesne University's Mary Pappert School of Music. For more information on the class, call (412) 268-4921.
Lang Lang performed in recital at 7:30 p.m. evening in Heinz Hall on Nov. 18.

With 22 faculty members who are also members of the PSO, Carnegie Mellon School of Music and the Pittsburgh Symphony Orchestra maintain a strong partnership. This year, they have partnered to present Vienna Days, a celebration of Austrian music director Manfred Honeck's inaugural year in Pittsburgh. For information on these special events and more, visit http://www.music.cmu.edu/ or call the Concert Line at (412) 268-2383.
Photo by Philip Glasser
Related Links: School of Music  |  LangLang.com
---