Lockhart to Conduct Philharmonic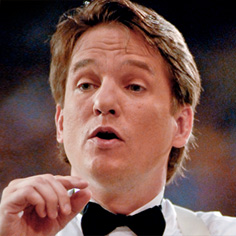 Keith Lockhart (A '83), conductor of the world-renowned Boston Pops orchestra, will lead the Carnegie Mellon Philharmonic Jan. 30 in a concert at New York City's Carnegie Hall. The event represents a monumental convergence of rising talent and established genius at the nation's hallmark venue for musical performance.
Lockhart holds a master of fine arts degree in Orchestral Conducting from Carnegie Mellon and has become one of the world's premier conductors. He has led more than 1,000 concerts in his tenure with the Boston Pops — which is widely regarded as one of the world's greatest symphony orchestras. And he has served as a guest conductor for numerous major symphonies including those of New York, Los Angeles, Berlin and Singapore.
The featured solo artist will be Andrés Cárdenes, the Pittsburgh Symphony Orchestra concertmaster and Carnegie Mellon's Dorothy Richard Starling & Alexander Speyer Jr. University Professor of Violin.

Recognized worldwide as a musical phenomenon, Grammy-nominated Cárdenes has parlayed his many talents into one of classical music's most versatile careers. Described as ferocious, passionate and charismatic, the Cuban-born Cárdenes has garnered international acclaim from critics and audiences alike for his compelling solo violin, conducting, viola, chamber music, concertmaster and recorded performances.
Lockhart is distinguished for his role in bringing orchestra to the mainstream. He led the Boston Pops in the first-ever orchestral performance featured in a Super Bowl and conducted the Utah Symphony Orchestra in the Opening Ceremony of the 2002 Olympic Winter Games. Under Lockhart, the Boston Pops have performed with such celebrity acts as Elton John, Ben Folds, Aimee Mann, Guster and Elvis Costello.
Now entering his 14th season with the Boston Pops, Lockhart has conducted the orchestra in more than 65 televised performances including an Emmy-nominated concert, and on 11 commercial albums including two Grammy-nominated recordings.
Tickets are $15-$25 and can be purchased at www.carnegiehall.org or by calling 212-247-7800. 
The upcoming Carnegie Mellon Philharmonic performance is part of a music season that includes more than 250 events featuring Carnegie Mellon's ensemble, choir and opera performances.
This season marks the launch of the School of Music's yearly Quartet-in-Residence program, bringing renowned professional groups to work closely with students as teachers and mentors.
The Quartet-in-Residence will also perform two recitals per year. The 2008-2009 resident is the Parker String Quartet, winners of the 2005 Concert Artists Guild Competition and the Bordeaux International String Quartet Competition.
For information on all School of Music performances, visit http://music.cmu.edu/.
Photo by Stu Rosner.
Related Links: KeithLockhart.com  |  School of Music
---