A Technical Pastry Chef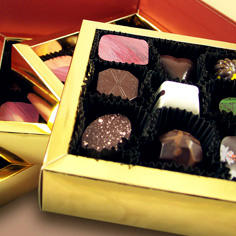 While she earned a technical writing degree from Carnegie Mellon in 1989, Anni Golding recently traded in her keyboard to write in delicate swirls of chocolate.
Since 2005, Golding has been the pastry chef/owner of Gateau et Ganache, a Palo Alto company specializing in handcrafted, French-style chocolates and confections.
"[The education] turned out to be far more versatile than I ever would have imagined," Golding explained. "The field of humanities and social sciences is not just a traditional liberal arts education. There's clearly a foundation for critical thinking and creativity that we can use in other careers."
After graduation, Golding landed in Silicon Valley, spending 13 years as a successful writer and project manager. The demanding high-tech schedule, an urge to explore new challenges, and two unexpected deaths propelled a life change. She turned back to a passion that had begun at seven, when she dragged home library cookbooks to make cupcakes.
After studying pastry and confections in both the United States and France, Golding launched her business, secure that her work experience and Carnegie Mellon had prepared her.
Golding's disparate careers share surprising similarities. While technical writing involves the marriage of science with creativity, so does crafting chocolate.
"It's a detailed process. One of the things that I most enjoy — and am frustrated by — with chocolate is that sometimes it's more science than anything else, with very specific work in temperature," she said. "I think [the science] is what keeps me interested. It was the thing that I enjoyed about baking. You can't fix a cake after the fact!"
Golding's previously honed skills include attention to research and detail, allowing the perfectionist chef to create beautiful, fresh confections from the finest preservative-free ingredients.
"Everything is handmade and my hands are on everything," she noted. "I've assembled the boxes, I've tied the ribbons, I've made the chocolates."
While Golding jokes that she's still a one-woman show, growth has been rapid and she has ambitious goals. Her entrepreneurial bent was stoked during her years at Carnegie Mellon.
"There was a real sense of 'just go for it'. Make sure that you have a good foundation of skills, but nothing's impossible," she said. "You can learn and apply and build something out of nothing."
Related Links: Gateau et Ganache  |  Technical Writing Program  |  College of Humanities & Social Sciences
---