Stephen Schwartz Visits Campus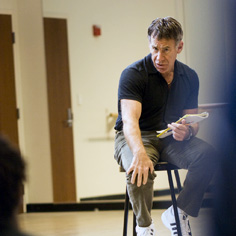 A group of senior drama students waited with anticipation as Stephen Schwartz, the musical theater legend and Carnegie Mellon alum, prepared to offer feedback.
"The good news is that everyone understands the acting part," said Schwartz (A '68). "Moment-to-moment you were all focusing on acting the lyrics — and you were not just singing words. Across the board the acting was strong ... not surprising coming from Carnegie Mellon."
The students were part of a master class held during an October visit by Schwartz, the composer and  and lyricist whose career spans more than four decades and multiple Oscar and Grammy awards. Schwartz's Pippin was originally performed by Carnegie Mellon's Scotch'n'Soda theater group when he was a student.
His latest visit was part of a partnership with the American Society of Composers, Authors and Publishers (ASCAP), the Pittsburgh Civic Light Opera (CLO) and the School of Drama New Works Program.
The New Works Program provides the opportunity for writers, lyricists, composers, directors and actors from the academic and professional worlds to refine and develop musical theater pieces.
"This is a win-win situation for the CLO, ASCAP and Carnegie Mellon because when you are developing a new musical it is important to see it in various stages of development," Schwartz said.
"You can't really tell anything about a musical until you do a reading like this. When we were developing 'Wicked,' we did readings like this seven times. This is an enormous opportunity for writers and the students to develop a new musical."
For this year's program Carnegie Mellon musical theater students were trying out "Bubble Boy," a zany comedy about Jimmy Livingston, a boy born without an immune system and forced to live in a bubble dome. He falls in love with his next-door neighbor Chloe, and he crosses the country to stop her from marrying another guy.
Ryah Nixon, a senior who played Jimmy's mother, seemed delighted by the challenge of rehearsing two musicals at once.
"It's been exhausting," Nixon said. "By the end of the day we are so tired, but we feel we thrived. Overall, this experience has been amazing, it's really refreshing work on a new musical."
With only one week of rehearsals the students performed a public reading of "Bubble Boy." The event was a special time for the writers of the book, Cinco Paul and Ken Daurio, who were in attendance.
A new works reading is a time when mistakes can be made — the work is progressing, changing and evolving. But in two acts with very few props, no costumes and only a musical stand and black folder holding the script, the students nailed it. They finished to a standing ovation. Writers Paul and Daurio stood in the center aisle, applauding and smiling with the realization that their book was one step closer to Broadway.
"It's great for the students. You have a bunch of musical theater students from Carnegie Mellon, which routinely turns out essentially the top musical theater students in the country," Schwartz said. "This collaboration gives them the opportunity that you cannot have in an academic environment. It's a jump-start of experience for the students."
Related Links: School of Drama  |  College of Fine Arts
---