Making Something Out of Nothing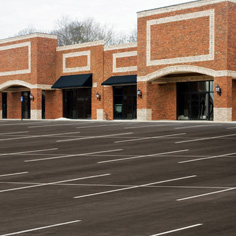 Almost every community across America has one: a big box store like Target or Kmart or Sam's Club. What happens when that big box store becomes abandoned? Artist and researcher Julia Christensen visited communities to see how they repurposed buildings abandoned by retail giants.
What she discovered was a number of creative and entrepreneurial communities that reused these spaces to become a public asset. Former corporate real estate sites have been reborn as community centers, megachurches, schools and flea markets.
In her research, she maintained a focus on the communities, rather than the corporations, to keep her work centered on the people with big ideas.
"People are tremendously creative about these buildings when there is a need at hand," Christensen said. "The community groups that reuse the structure become very involved in their re-design, so people who are not trained as architects or planners become really good at re-imagining space, the circulation of activity, and are very hands-on in how they renovate the structures."
Christensen has always wanted to bring attention to how creative and resourceful these communities are as they repurpose these buildings and connect their needs to the landscape. An exhibition of her work is on display at Carnegie Mellon's Regina Gouger Miller Gallery through Nov. 23. She will also be on hand to give a talk on her findings as well as discuss her new book "Big Box Reuse" on Nov. 13 at the Miller Gallery. The lecture begins at 4:30 p.m.
"Hopefully by looking at these inspiring instances of big box reuse, we will not only highlight the creativity of our towns, but we will also raise a platform to discuss what the big box building means in our towns," she explained.
Christensen finds it hard to pick favorites because each reuse she has seen is so unique to the context and character of that town. But she said her audiences always love the Spam Museum, in a renovated Kmart building in Austin, Minn., and the RPM Indoor Raceway, which was a high-end go-kart track that operated in a renovated Wal-Mart building in Round Rock, Texas.
"I hope to shine a light on the creativity and resourcefulness of towns everywhere, while also bringing attention to this major issue that our country is facing: empty big boxes littering the landscape," she said.
Related Links: BixBoxReuse.com  |  About Julia Christensen  |  Regina Gouger Miller Gallery
---