Countdown to the Campaign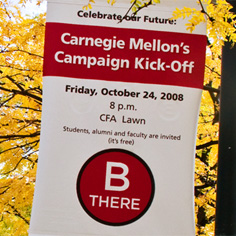 B fearless in the face of big bets. B part of a team that doesn't exist anywhere. B an architect of change. It's what Carnegie Mellon people do.
On Friday, Oct. 24, we invite you to help write the next chapter in what's been regarded as one of the great success stories in higher education today. Join us as we embark on a new challenge at "Celebrate Our Future: Carnegie Mellon's Campaign Kick-off."
Zachary Quinto (CFA '99) of the NBC hit series "Heroes" and Aaron Staton (CFA '04) from the Emmy Award-winning AMC series "Mad Men" will emcee the event — beginning at 8 p.m. on the College of Fine Arts Lawn.
Live entertainment will feature talent from right inside our own Carnegie Mellon community. Come out and enjoy performances by:
This event is free-of-charge for all Carnegie Mellon alumni, students, faculty and staff. No registration is required.
Related Links: Campaign: B There  |  Homecoming Events
---