Creative Programs for Youth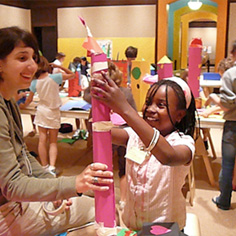 The educators at "creative programs for youth" — a range of programs for K-12 students that's offered at Carnegie Mellon's College of Fine Arts —  are gearing up for another term of learning, art and fun.
Taught by practicing professionals, nationally and internationally exhibited artists and upper-level Carnegie Mellon students, the programs give youth a chance to learn under experienced mentors while following their own artistic passions.
"Students work in a diverse and supportive community of emerging artist peers and established professional faculty, gaining a preview of the undergraduate art program," said Janice Hart, director of the Pre-College Art Program.
Carnegie Mellon's creative programs for youth have provided students with artistic enrichment for more than 70 years.
Younger children reap the developmental benefits of early immersion in creative studies, while programs for high-school students afford older children a rare opportunity to experience college life at one of the world's finest universities — where they can develop the body of work and study needed to transition to higher-education creative programs.
Programs offered this fall include the School of Art's Pre-College Art Program for students in grades 9 through 12, the School of Architecture's Architectural Explorations Program for students in grades 3 through 12, and the Music Preparatory School, which offers several courses for children between the ages of 3 and 18.
Students in the Pre-College Art Program take courses that include digital photography, painting and video art, drawing, drawing and anatomy, metal, casting, soft-sculpture studio, printmaking, collaborative studio, painting studio, and video art and animation.
The Architecture Explorations Program groups students by grade level, with third- and fourth-graders exploring the characteristics of different building types and high school students creating portfolio-quality work in preparation for college applications.
Students in the Music Preparatory School may take courses in piano, string, guitar or percussion — taking advantage of a unique offering of both private and group classes.
Related Links: Read More  |  School of Art  |  College of Fine Arts
---