Performance Parking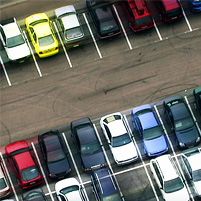 Carnegie Mellon University professors Mark Fichman and Stephen Spear are driving innovation for urban parking problems.

A pilot study has dramatically improved parking patterns near CMU's Pittsburgh campus.

Their low-cost methods could be a catalyst, transforming Pittsburgh's once congested streets into a performance parking model for other cities.

Before 2012, the price of parking near Carnegie Mellon's Pittsburgh campus was inexpensive, but finding spots to park during peak hours was difficult.

When the Pittsburgh Parking Authority raised rates in January 2012, the streets emptied.

"When the new prices came in and the meters were still here, the occupancy rate around campus was about 35 percent, which is terrible," Fichman said.

Even when credit card kiosks popped up, saving drivers the hassle of keeping quarters on hand, nearby streets were lined with open parking spots.

That's when Fichman, an associate professor of organizational behavior, sought out Spear, a professor of economics. Together, they discussed the issue with staff members from the office of then Pittsburgh City Councilman Bill Peduto.

"We said, 'There's a problem here, and there might be an opportunity for CMU to run a class or do an analysis and think about how to fix it,'" Fichman said.

Performance parking projects in other areas, like San Francisco's SFpark, rely on sensors to monitor the occupancy rates of select streets throughout the day. Fichman and Spear performed a similar experiment but without expensive, fragile sensors.

The duo culled thousands of entries in a database created by the kiosks. Using that information, they determined current occupancy rates and asked the Pittsburgh Parking Authority to adjust prices accordingly.

"The peripheral streets remained empty, so we lowered those prices," Fichman said. "We had signs made that say 'economy parking' or 'premium parking,' and the city installed them."

As Professor Spear is fond of saying: it's just economics.

The study uses fundamental economic principles to find the optimum parking rates for each of these areas, Spear said. The result balances regular commuter usage with overall parking revenue.

"Street parking is a commodity and the marketplace will define the relationship between cost and demand," Spear said.

Within six months, the professors found prices that filled spaces to around 80 percent of capacity. Revenues went up and occupancy rates on streets in high demand dropped, leaving spots open for the occasional student (or professor) scrambling to make an 8 a.m. class.

Spear said he anticipates more cities will adopt a performance parking model incorporating dynamic pricing as urban drivers grow accustomed to fluctuating parking prices and multi-space meters become widely available.

"It's a huge improvement now that the multi-space meters have come in that they can now change the prices over the wireless internet," Spear said, adding that as these technologies mature, municipalities will work on improving optimization, which in turn will ease congestion and improve convenience for drivers.

"If you can hit all three of those targets at once, that's a great thing," he said.
Related Links: Read press release | Tepper School of Business
---