Committed to 'EXCEL'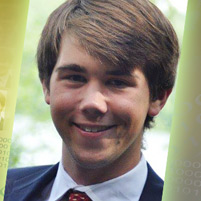 Charles Swanson
Charles Swanson, (CS'14), who just graduated with a degree in computer science at Carnegie Mellon University, recently was chosen to receive one of two Outstanding Supplemental Instruction (SI) Leader awards from the International Center for Supplemental Instruction at the University of Missouri-Kansas City.

The award recognizes the contributions Swanson has made to the CMU community through six semesters as an EXCEL Group leader and four semesters as the student supervisor of the SI and EXCEL Programs.

"We try to keep the students as active and engaged as possible. This is a challenge when students aren't comfortable with the material, or when you only have one hour a week with them, or when they are shy or low on energy," Swanson said.

SI and EXCEL are academic enrichment programs offered for traditionally difficult courses, such as 21-127 Concepts of Math. The program consists of regularly scheduled, informal review sessions.

All students are encouraged to attend SI sessions or sign up to join an EXCEL group, and students with varying levels of academic preparedness and diverse ethnicities participate.

The sessions are facilitated by trained SI/EXCEL leaders who, like Swanson, previously have done well in the course and who attend all class lectures (for SI), take notes, act as model students, and design practice problems, review materials and collaborative activities for their weekly sessions and exam review sessions. Faculty meet with SI leaders weekly to answer questions, clarify ideas, offer suggestions and ensure material continuity.

"When you are designing ways to make technical subjects engaging — and dare I say fun — you never get it right. There is always some way you can improve on it. I have so much fun thinking about it," Swanson said.

Swanson also was head course assistant for the fundamentals of programming course for the Computer Science Department, where he oversaw 36 teaching assistants. Now that he's graduated, he is headed to New York City to work for MongoDB.

Swanson's supervisor, Jessica Owens, first met Swanson when he trained for the SI/EXCEL leader position in the spring of 2011. She said his exceptional passion and talent for creating collaborative learning environments for his peers became evident quickly.

"Charlie set the record for the highest number of student contacts generated by one EXCEL leader in a single academic year and earned a perfect mean student satisfaction rating," Owens said of his first year.

Swanson said he was happy to be nominated for the Outstanding SI Leader Award, but he never expected to win it.

"If anything, this award helps me to appreciate just how hard we've all worked over the past couple years," he said. "It's very satisfying to see something come out of that."

Swanson receives his Outstanding SI Leader Award this weekend at the 8th International Conference on Supplemental Instruction in Chicago, where he will present on his experiences and best practices as a leader.
Related Links: School of Computer Science | About SI Leaders
---