Hockey Stats Revolution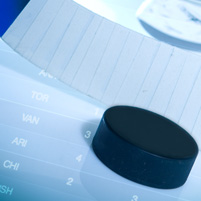 The NHL, hockey journalists and fans have joined the "Big Data" movement, and Carnegie Mellon University's Department of Statistics is behind a large effort to make sure analytics are used effectively.

"As an academic and hockey fan, it warms my heart that people want to learn more about hockey and are using statistical analyses to do that," said Sam Ventura, a Ph.D. candidate in statistics who co-founded WAR-On-Ice.com, a new site for traditional and modern hockey statistics.

Enthusiasm for hockey data was apparent at the 2014 Pittsburgh Hockey Analytics Workshop held at CMU. More than 120 people traveled from across North America to attend the workshop.

Organized by Ventura and his WAR-On-Ice co-founder Andrew C. Thomas, the attendees learned about everything from the history of analytics in hockey, to how teams and others who are interested can work to collect their own data reliably.

Hockey writer Adam Gretz came to the daylong conference sponsored by the Department of Statistics in the Dietrich College of Humanities and Social Sciences. Gretz said the main benefit data can bring to the game is helping teams win more games — and how hockey can learn a lot from baseball.

"One of the more interesting presentations came from baseball writer James Santelli as he discussed how baseball sabermetrics can be translated over to hockey," Gretz wrote in a piece for CBSSports.com. "Santelli addressed how coaches can make changes that impact a game — using defensive shifts to prevent hits and runs — and how communication is the most important thing … to get the ideas from the coaches office and front office to the ice that is relevant and meaningful to players."

The site Ventura and Thomas created aims to give its users a complete set of measures to compare teams and players, probabilistic analyses of live, in-progress hockey games and insights from statistics and data science on how these measures can be improved. WAR-On-Ice plays off of the acronym for Wins Above Replacement, typically used in baseball to determine a player's total contribution to the team.

In Ventura's presentation at the workshop, he introduced a new metric called Zone Transition Time (ZTT) to figure out how quickly teams and players take to transition from the defensive zone to the offensive and how effective they are at sustaining pressure in the offensive zone.

"I wanted to look at ZTT because zone location data — provided by the NHL — has been available for public use for years, yet, to the best of my knowledge, no one has analyzed it," Ventura said. "The work I presented is very preliminary. It was helpful to get feedback from the hockey analytics community on how they thought this information might be useful."

Thomas, assistant visiting professor of statistics at CMU, believes that hockey's statistical revolution starts with what people want to know before touching the numbers.

"There are plenty of fans who ask questions about the game without knowing exactly how to answer them — which players would be better than others, when a coach should call for a time-out, how much a new free agent should be offered," he said. "I'm encouraged that there's a growing community of fans who are learning how we can ask these questions with the new kinds of data we have available."

To view all of the presentations from the 2014 Pittsburgh Hockey Analytics Workshop, visit http://blog.war-on-ice.com/pghanalytics-slides-so-far/.
Related Links: Dietrich College | Department of Statistics | WAR-On-Ice.com
---