Super Bowl Play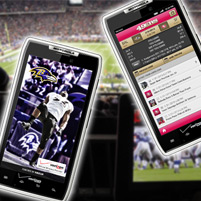 Priya Narasimhan, a professor of electrical and computer engineering at Carnegie Mellon University, had a special interest in Super Bowl 2013.

The mobile apps that she and her students created to allow sports fans to watch the game and its replays from far more angles than just their stadium seats are now supported by more than 40 professional sports teams — including the Ravens and the 49ers. 

Narasimhan fell in love with Pittsburgh sports when she moved to the city in 2001. She would often grab the best nose-bleed seat she could find — just to attend games every chance she could.

"I was often unable to see the goal, the touchdown, the interception, or the save because my view was often blocked by people taller than I was, and most of all, at just the moment that it counted during the game," she said.

"I wanted the best of both worlds — the level of control over my experience that I have with my TV sitting on my couch at home, along with the unbeatable shared experience of watching a game in a stadium with 80,000 rabid sports fans like myself."

Shortly thereafter, YinzCam was born.

"The purpose was to let fans watch the game from different live in-stadium camera angles and to watch instant replays from all these angles on their own smartphone, whenever they wanted, while they were in the stadium," Narasimhan explained.

The technology was initially created as a research project at CMU, followed by a pilot for the Pittsburgh Penguins during their 2009 Stanley Cup run. Priya has since grown YinzCam into a company that now supports more than 40 professional sports teams and venues, including the two NFL teams in the 2013 Super Bowl.

"We recognize how important it is to reach our fans via mobile channels. Over fifty percent of our digital traffic comes from mobile devices," said  Michelle Andres, vice president of digital media at the Baltimore Ravens. "YinzCam was more than equipped to help us achieve our goals. They understand mobile consumption habits and helped us create both smartphone and tablet versions of our app that have already been downloaded by more than a quarter millions fans."

The first NFL team to use YinzCam's technology was the New England Patriots at Gillette Stadium.

"In 2008 and 2009 we were putting significant energy into finding a way to stream video over a Wi-Fi network for an in-game app that we had conceived. But we were very concerned that latency issues would hurt its utility for our guests," said Jonathan Kraft, New England Patriots owner and president of the Kraft Group.

"The established technology companies we consulted with weren't able to, at the time, provide that solution: streaming live video to mobile devices without latency. That's when we came across YinzCam," Kraft explained.

"YinzCam had developed technology that solved the latency issue for streaming video and so we started to employ their technology in 2010. Since that time, YinzCam has used its proprietary streaming technology as a foundation and coupled it with their knowledge of what live sports attendees want," he added.

"In my opinion, they've become the preeminent in-stadium sports app developer in the world," said Kraft. "The Patriots are proud to be the first of what are now 24 NFL teams who use the YinzCam product. As in-stadium smartphone and tablet apps continue to develop, we fully believe YinzCam will be leading the charge with the most state of the art applications for this market." 

YinzCam's mobile apps have been downloaded over 6 million times by NFL, NHL and NBA fans worldwide. The company is also now expanding to support sports teams outside the United States.

The company was recognized as ad:tech 2011's best startup in next-generation advertising. As CEO of YinzCam, Narasimhan was recognized by Global Pittsburgh as 2012's best new company executive for creating jobs in the Pittsburgh region.

"This all started as a research project with Carnegie Mellon undergraduate students who didn't think anything was impossible," Narasimhan said. "I get goose-bumps thinking about how far we've come."

Members of the YinzCam team include Professor Rajeev Gandhi, along with CMU alumni Justin N. Beaver (E'10), Max Salley (E'10), Jeremy Kanter (DC'09), Nathan D. Mickulicz (E'08,'12), Brian Finamore (E'10), Paul Rubritz (CS'10), Joseph Zischkau (E'12) and Michael P. Kasick (E'06,'09,'12), as well as Edinboro University alumnus Jason Horne.

YinzCam develops the official mobile apps of various sports teams, including their unique in-stadium replay technology along with out-of-stadium statistics, roster, news, photos, live press conferences and much, much more.
Related Links: Download the Ravens Mobile App | Download the 49ers Gameday Live App | Follow YinzCam on Twitter | YinzCam on Facebook | Electrical and Computer Engineering | Did You See That?! | What a Play!
---