Cookie vs. Creme: A Robotic Twist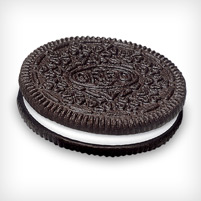 When Nabisco's Oreo team needed a robot to "help make the world a better and more efficient place" — that is, help separate the creme from the cookie — they knew just what to do: head straight to Carnegie Mellon University's Robotics Institute and recruit HERB — the two-armed, mobile robotic butler.

Oreo's ongoing, tongue-in-cheek 'Cookie vs. Creme' campaign was launched with their "Whisper Fight" Super Bowl commercial. It has continued through a series of four YouTube videos featuring unique "Oreo Separator" machines. HERB appears in the final video and, not surprisingly, is the only research robot that could handle this challenge.

Michael Illick, of Oreo's ad agency Wieden+Kennedy and co-director of the spot said, "One of the immediate go-to's was Carnegie Mellon University's HERB … a perfect choice."

In his daily life, HERB is happy to help researchers in the Personal Robotics Lab.

He serves as a testbed in developing algorithms that allow robots to perform useful manipulation tasks amid the realistic clutter of indoor space.

"We're focusing on trying to get HERB to do the kinds of tasks that a caregiver would do for you in the home — that's the goal," explained Siddhartha Srinivasa, director of the lab and associate professor in Carnegie Mellon's Robotics Institute (RI).

"But it's quite fascinating to adapt the technologies for something as fun as separating the cookie from the creme."

Naturally nervous to be starring in his first YouTube commercial, HERB needed a little help from his family at the lab in mastering the tiny creme-filled cookies (check out behind the scenes video and photos).

"HERB has been having a really exciting time finding ways to pick up and separate Oreos because they're so small and delicate," said Prasanna Velagapudi, CMU RI project scientist. "They're one of the smallest objects that he's actually ever manipulated."

Despite the challenge, HERB seemed to love the attention, with scores of folks fussing over him and lining up to watch his performance.

HERB is a Quality of Life Technology Center (QoLT) project, a National Science Foundation Engineering Research Center dedicated to developing intelligent systems for everyday, independent living. The center is jointly operated by Carnegie Mellon and the University of Pittsburgh.
Related Links: HERB's web page | Robotics Institute | Oreo.com | Personal Robotics Lab | School of Computer Science | Quality of Life Technology Center
---