Polly Wants … to Give Information
Four-minute Demo of Polly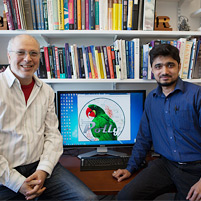 Roni Rosenfeld, Agha Ali Raza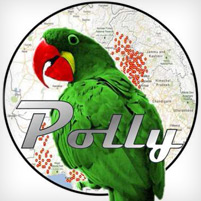 How can a simple, amusing phone game spread knowledge in the underdeveloped world? Just ask Carnegie Mellon University computer science professor Ronald Rosenfeld and his doctoral student Agha Ali Raza — the developers of Polly.

The silly sound-effect game has become a viral phenomenon in Pakistan, helping illiterate and low-literate individuals learn to use automated interfaces and access valuable information.

"The accessibility of useful information in the underdeveloped world is severely hampered by illiteracy, linguistic barriers and lack of internet infrastructure," explained Rosenfeld, a professor in the Language Technologies Institute who has studied international socio-economic development for more than a decade.

"Speech and language technologies — especially as used over a simple telephone — have a great potential to help, translating into better jobs, better healthcare, a more efficient marketplace and much more."

"Many people in Pakistan, however, don't understand the technology behind an automated telephone-based service," added Raza, a native Pakistani. "When they hear, 'Press 1 to do this,' they just start talking."

To reach this technically naive population, Rosenfeld, Agha and a colleague at Pakistan's Lahore University of Management Sciences, made use of two factors: 1) viral spread and 2) the fact that people are highly motivated by entertainment, spurred to figuring out even sophisticated technology.

When a caller records a message using Polly, the system adds funny sound effects, making the user sound, for example, like a chipmunk. The caller can then forward the message, which can be further forwarded along.

Polly doesn't just create amusing messages, however — the system includes job listings from daily newspapers, available for easily accessed audio browsing.

"Having lived my life in a developing country, I know that one of the major factors impeding socio-economic progress is the lack of information access," noted Raza. "For example, the newspapers publish many job ads suitable for low-skilled, low-literate workers everyday — who cannot access them because they don't read!"

In May 2012, Polly was launched in Lahore, Pakistan to five low-skilled workers. Within months, 85,000 people had used the system nearly half a million times. Today, almost 165,000 people have used Polly for more than 600,000 calls, with the employment ads accessed nearly 400,000 times, often directly.

Raza, the lead author, recently presented the research in Paris at CHI 2013, the premiere international conference on human computer interaction, where it received a Best Paper award.

The team plans to add more services to the system and launch Polly in numerous other countries, including India.

Rosenfeld and Raza credit the university for helping them to realize their goals.

"I came to CMU because it was best place to bring my skills together with my goals, which were to benefit underserved, low-literate people and to bring about impact quickly," said Raza. "I really appreciate the freedom of research and collaboration and the support that I got from my advisor and department."

"The CMU culture is one of 'dream big, and then go about making it happen,'" added Rosenfeld. "There is a tremendous positive atmosphere, enthusiasm everywhere on campus, many world experts in diverse areas and a strong culture of interdisciplinarity." 

"I don't know of any other place in the world that is better for coming up with wacky ideas and then making them happen in the real world."
Related Links: Polly | Read press release | School of Computer Science | Language Technologies Institute | Human-Computer Interaction Institute
---