Showing Their Mettle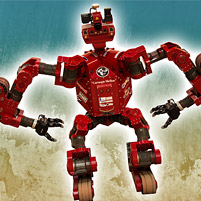 CHIMP robot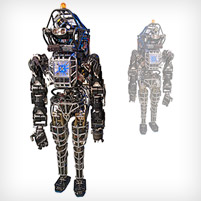 Atlas humanoid
It's only been a few weeks since Carnegie Mellon University's National Robotics Engineering Center (NREC) completed assembly of its four-limbed CHIMP robot, but the Tartan Rescue Team had high hopes for the robot's performance at the DARPA Robotics Challenge (DRC) Trials, held Dec. 20–21. The team ranked third out of 17 teams competing, and is one of eight teams eligible for DARPA funding to prepare for next December's finals.

"We've been on a fast track for the past year, doing detailed design and development of CHIMP at the same time as we were writing and testing its software on surrogate hardware," said Tony Stentz, NREC director and leader of the Tartan Rescue Team. "That's an aggressive approach to producing a robot unlike any we have built and not without risk, but it appears to be paying off.

"The software allowed us to investigate a number of issues that influenced the design of the hardware and improved the robot," he continued. "Even though we would love to have more time to practice with CHIMP prior to the trials, we've been pleased so far with its performance."

Tartan Rescue is one of 17 teams to compete at the DRC Trials at the Homestead-Miami Speedway in Homestead, Fla.

Sponsored by the Defense Advanced Research Projects Agency (DARPA), the DRC is intended to spur development of advanced robots that can mitigate disasters while working in environments engineered for people. Based on performance at the trials, up to eight teams will receive DARPA funding to help prepare for the DRC Finals next December.

CHIMP — the CMU Highly Intelligent Mobile Platform — is a human-size robot that, when standing, is 5-foot-2-inches tall and weighs about 400 pounds. It moves on tank-like treads on each of its four limbs. When it needs to operate power tools, turn valves, or otherwise use its arms, CHIMP can stand and roll on its leg treads.

The robot's long front arms — its wingspan is almost 10 feet — give it an ape-like appearance.

During the trials, each robot will be given 30 minutes to attempt each of eight different challenges, such as clearing debris, closing valves, handling a fire hose, climbing stairs and crossing uneven terrain.

The Tartan Rescue Team is 50 members strong, drawing from the NREC technical staff and faculty, staff and students from CMU's Robotics Institute.

CMU also will play an important role on Team WRECS, based at Worcester Polytechnic Institute (WPI).

Chris Atkeson, professor of robotics, and 10 current or recent CMU grad students and post-doctoral researchers, are part of WPI's Robotics Engineering C Squad (WRECS). The team, led by WPI alumnus Matt DeDonato, was one of the top finishers in the DARPA Virtual Robotics Challenge this summer. This qualified the team to receive a 6-foot-two-inch, 330-pound Atlas humanoid, designed and built for the DRC by Boston Dynamics, a company recently acquired by Google. The team dubbed the robot WPI's Atlas Robot for Nonconventional Emergency Response, or WARNER.

"In the short time that we have had WARNER, the team has taken a robot that could barely walk and transformed it into a machine that can drive a car, climb a ladder, use power tools and perform many human-like tasks," DeDonato said.
Related Links: DARPA Robotics Challenge Trials Live Broadcast [video] | Robotics Institute | National Robotics Engineering Center | Tartan Rescue | Read press release | News brief | DARPA Robotics Challenge | A Look at the Competition Course
---