Robotics Initiative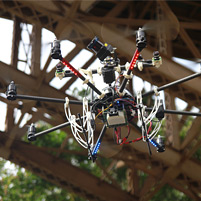 An autonomous, low-flying robot with 3D imaging
Bridge inspectors, surgical tools and aids to blind travelers are among seven new Carnegie Mellon University research projects sponsored through the National Robotics Initiative.

In the latest round of grants for the initiative, the National Science Foundation awarded more than $7 million to CMU researchers to develop robots that can work with humans.

"The great promise of robots is to extend human skills and enhance human lives," said Matt Mason, director of the Carnegie Mellon Robotics Institute. "The National Robotics Initiative is helping researchers here at Carnegie Mellon and across the country make that promise a reality."

Among the new projects is a large, multi-university, interdisciplinary effort led by Sanjiv Singh, research professor in the Robotics Institute, to develop an autonomous robotic inspection assistant. The goal is to improve the assessment of aging bridges and other critical infrastructure by combining human judgment with machine intelligence.

"Current inspection methods for bridges, dams and other infrastructure often require expensive, specialized equipment and are potentially dangerous for inspectors who must reach difficult-to-access areas," Singh said.

"This project will use small, low-flying robots, coupled with 3D imaging and advanced planning, modeling and analysis, to provide safe, efficient and high-precision assessment of critical infrastructure."

In addition to other members of the Robotics Institute, the three-year, $2.3 million project will include researchers in the departments of Civil and Environmental Engineering at CMU and Northeastern University.

Howie Choset, professor of robotics, is a co-principal investigator in another large, multi-university project that will provide surgical robots with a new kind of machine intelligence that will enhance minimally invasive surgery.

The researchers will work to establish the concept of "complementary situational awareness," which takes advantage of a robot's ability to gather information as it works and to use it to guide its action. They hope to compensate for a surgeon's inability to directly see organs and other tissues when they are performing minimally invasive surgery. Using a technique called simultaneous localization and mapping, or SLAM, the researchers will work to have mobile robots creating maps as they navigate unexplored areas.

The idea is based on algorithms developed for navigating buildings, landforms and streets.

Three NRI projects will help people be safer. They focus on helping visually impaired people navigate through unfamiliar environments, assisting individuals with stroke-related mobility impairments and serving as scouts for rescuers responding to underground mine disasters.

Two additional projects focus on developing better simulation tools for designing and testing robot systems and developing methods for modeling, design and control of large numbers of micro-robots.
Related Links: Read press release | President's Visit | National Science Foundation | Robotics Institute | Civil and Environmental Engineering
---