Cohon Joins White House Talk on Future of Education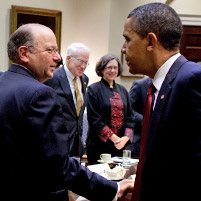 In a 2012 State of the Union address, President Barack Obama reflected on a recent meeting with university presidents, urging discussion on higher education productivity and affordability.
Carnegie Mellon University President Emeritus Jared L. Cohon was among the attendees.
The other presidents there represented some of the nation's largest public university systems. So why Carnegie Mellon?
A leader in creating technology for education, CMU is uniquely poised to continue its work in what we call "the science of learning."
One particular project — CMU's Online Learning Initiative (OLI) — was an important part of the White House discussion. 
CMU's OLI courses are web-based learning environments whose course designs reflects a detailed, science-based understanding of how students learn.
Now, there are more OLI users than ever before.
CMU is testing OLI courses at a range of universities and community colleges, including those whose presidents attended the White House meeting.
Related Links: Online Learning Initiative | White House Press Release | President Jared L. Cohon
---