TEDx at CMU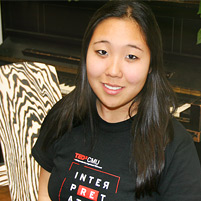 Jeesoo Sohn, president of TEDxCMU
Who can bring together the CEO of a major video game company, a self-proclaimed style blogger and nine other innovators, artists and business people?

TEDxCMU.

Carnegie Mellon University students are hosting their third TEDx event on Sunday, March 4.

TED began as a local conference in Long Beach, Calif., bringing together the best minds in technology, education and design.

Now it's a global community of doers and thinkers, exchanging ideas with the hope of making a better future.

And CMU students saw the potential.

CMU's TEDx events — "x" meaning independently organized — are modeled after the annual TED conferences, which challenge the world's thought-leaders to speak for 18 minutes on the same theme.

This year's theme is reinterpretation.

"Reinterpretation is something we can apply in all of our lives," said Jeesoo Sohn, president of TEDxCMU and a junior pursuing a future in music technology.

"TED is all about ideas worth spreading. So the event is about sharing and getting other people's input. A lot can happen when you do that, especially when it happens at an educational institution as great as CMU."

"When I came to CMU, what really struck me about the school is that everybody is so passionate about what they're doing, and they're not afraid to show it. There is so much support, and you get such a well-rounded academic experience regardless of what you're studying."

Students collaborated across disciplines and interests to select speakers who would appeal to a broad audience of CMU students:
Gala Darling, Style Blogger

Razi Imam, Innovator, Entrepreneur & Author

Matthew Manos, Social Entrepreneur

Stephen Neely, Artist Lecturer at Carnegie Mellon

Sean Ogle, Founder of Location 180

John Riccitiello, CEO of Electronic Arts

Ardon Shorr, Student Speaker Competition Winner

Jennifer Stock, film artist

Gil Taran, CEO of iCarnegie

Zach Weiner, Founder of Saturday Morning Breakfast Cereal

Jay Whitacre, Professor at Carnegie Mellon, Founder & CTO of Aquion Energy
The event will also feature performances by Threefifty Duo, guitarists Brett Parnell and Geremy Schulick.

"Inspiration can come from many different sources. By listening and sharing, you can find your own personal angle as to how what's being said impacts and affects you personally," said Sohn.

Sohn wanted to participate in TEDxCMU after she listened to a TED talk that helped define her career path.

"That one talk changed my life and inspired me to follow my own dreams of music technology."

The TEDxCMU talks will be streamed live at http://tedxcmu.com/watch and archived on TEDx's YouTube channel.
Related Links: TEDxCMU
---