Hollywood vs. Reality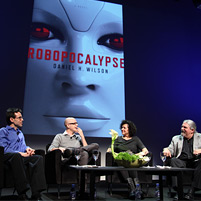 How do Hollywood's robots stack up to Carnegie Mellon University's real-life innovations? Where's the line between fiction and reality?

These and other topics were addressed recently at "Leading Innovation: Los Angeles and Beyond," which featured a panel of leading experts from CMU in the worlds of entertainment, artificial intelligence, robotics and technology.

"The field of robotics is moving so fast these days that it makes life tough for a sci-fi author. You come up with something new, only to find out it's already real," said Daniel H. Wilson (CS'03,'04,'05), who spoke on the panel.

Wilson is a CMU alum and author of How to Survive a Robot Uprising and Robopocalypse, which will soon be a Steven Spielberg film.

The event was planned as part of CMU's Inspire Innovation campaign, shining a spotlight on CMU faculty and alums who are paving the way in their fields.

"Robots have the potential to improve medical care by reducing costs, post-operative pain and stays in the hospital," said Howie Choset, a professor in CMU's Robotics Institute who spoke on the subject at the event.

Wilson and Choset were joined by Jodi Forlizzi, associate professor of Human-Computer Interaction Institute and the School of Design.

Don Marinelli, executive producer and co-founder of CMU's Entertainment Technology Center, moderated the discussion.

The event came on the heels of the university's announcement that it has surpassed its $1 billion campaign goal with 16 months to go.

"The success of Inspire Innovation is a testament to the loyalty and generosity of our alumni, faculty, staff, parents, students, corporations, foundations and friends," said CMU President Jared L. Cohon. "They believe in us deeply, and have demonstrated it through their support."

Carnegie Mellon's Inspire Innovation campaign is aimed toward growing and sustaining a vibrant university community extending beyond the campus to include alumni, parents and friends, as well as students, faculty and staff.
Related Links: Inspire Innovation | Real Steel: Hollywood Fact vs. Fiction
---