Build-a-Bot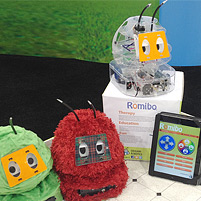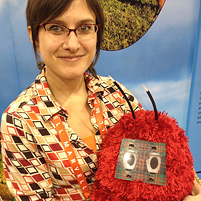 Move over Teddy Bear.

Soon you'll be able to snap together an inexpensive toy robot featuring customizable behaviors and unique social elements that help your child develop skills in science, technology, engineering and math.

Meet Romibo — a do-it-yourself robot for therapy, education and fun introduced by Origami Robotics of Pittsburgh, Pa., and developed at the NSF-funded Quality of Life Technology Center (QoLT) at Carnegie Mellon University.

Origami Robotics was one of five startup companies from QoLT to exhibit their products at the International Consumer Electronics Show (CES) in Las Vegas, the world's largest and best-known technology trade show, from Jan. 10-13, 2012.
Robot therapy has been shown to benefit children and other individuals with a wide range of social, emotional and developmental disorders.

Robots can create social engagement, promote emotional response and motivate positive behavior changes. But robot therapy is not yet widely available to the general public because existing prototypes have been too expensive. 

Romibo inspires youth to build their own pet-like social robots using kits that are both highly affordable and programmatically adaptable.

Soon interested builders will be able to order a Romibo robot kit online. Kits will include all the necessary components and hardware needed to create the basic plug-and-play system. 

The robot features a unique modular design that is optimal for flat packaging, easy transport and quick assembly. Builders will be able to customize the robot's appearance by selecting from several different robot skins. 

Building instructions and other files will also be available online. Engaged builders will be able to access mechanical part files, electronic schematics, and sample code to get their Romibo up and running. 

Romibo relies on standard off-the-shelf Arduino electronics and a USB adapter for downloading and uploading social robot behaviors and emotional states. 

Programmable interactions include touch response, attention orientation, rhythm and gesture. Romibo's characteristically large eyes express a range of emotions and encourage children with social difficulties to learn how to make eye contact.

Additional hardware includes wireless; IR communication; expressive colors/lights; speaker and microphone.

Built Romibos will be able to be operated autonomously or via remote control. The robots are designed to be both Android and iPad compatible.

But the toy's unique experience comes from its interactive community. Romibo supports collaboration between robotics researchers, enthusiasts and ordinary people by connecting builders at live community workshops and in online social networks.

Eager fans can sign-up to host community build workshops connecting users around common behavioral interests, therapy needs or disability-based causes on QoLT's website.

Builders are also encouraged to share their robot code online. By posting personal experiences on customizing or improving the robot, Romibo builders can directly contribute to the robotics field. Eventually a full library of coded behaviors will emerge and remain readily available for the larger community to study and explore.

With its low cost design, viral distribution and actively engaged builder community, Romibo aims to spark a grassroots effort for social robot therapy and innovation.

Builders can even donate finished Romibos to clinicians and parents of children with disabilities in support of this cause.
Related Links: Romibo.org | QoLT | Robotics Institute
---