Pocket-sized Robot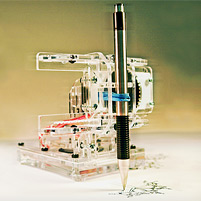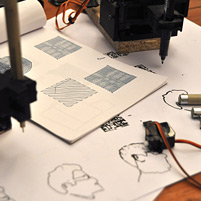 Piccolo experiments
If you like to tinker, a new product being developed by a team from Carnegie Mellon University may interest you.

Piccolo is a computer numerical control (CNC) robot that you can use to draw your own business cards, create illustrations or just have fun experimenting with CNC output.

Once heavy, bulky and only affordable to big manufacturing companies, this new CNC bot will sell for under $100 — and you can carry it in your pocket.

"We believe that personal fabrication is becoming increasingly popular but that access to these machines in a way that allows one to tinker and experiment is still quite limited," said Huaishu Peng, who will graduate in the spring with a master of tangible interaction design degree from the university.

Piccolo's applications range from simple drawings, generative designs and data visualizations to small-scale laser-cutting or 3D printing, depending on the tool head used.

Regarded as a DIY robot, Piccolo is a bot you assemble and develop yourself. It can be used in a variety of ways such as moving autonomously or responding to sensors and data.

The team says having the opportunity to develop the product at CMU was critical.

"The open atmosphere and interdisciplinary culture at CMU helped us a lot. We were able to easily work across departments and learn from smart people with diverse backgrounds. The people at CMU make amazing stuff every day and they are truly helpful," Huaishu said.
 
The team behind Piccolo's development — all former lab mates in CMU's Computational Design Lab  — are Huaishu, Cheng Xu and Diatom Studio.

Diatom is a London-based design studio founded by CMU alums Greg Saul and Tiago Rorke.

All of the team members are based in different cities and work remotely on Piccolo.

The Computational Design Lab is an interdisciplinary research lab at CMU. Its research spans the fields of computer science, human-computer interaction, digital fabrication, tangible interaction design, mechanical engineering, product design and electrical engineering.

"CMU is the best place in the world to make a robot. Robotics at CMU is sophisticated and comprehensive. It's the only place good at all aspects of cutting-edge robotics research," Huaishu said.
Related Links: About Piccolo | Computational Design Lab | School of Architecture | Humans Invent Article: Piccolo
---