Got an App for That?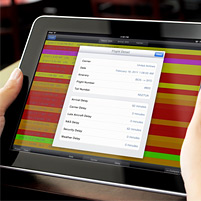 "FlightStripes" in action
Examining flight delays by date, airline or airport. Comparing cereal brands by fiber, fat or calorie content. Exploring presidential campaign finances.

These are actual iPad apps created by students — in Carnegie Mellon University's project-based course Developing iPad Applications for Visualization & Insight.

Co-taught by CMU Assistant Professor Niki Kittur and top industry developers, the classes were also available for free at Carnegie Mellon University on iTunes U — bringing the top-notch instruction of CMU's Human-Computer Interaction Institute (HCII) to the curious far and wide.

"I entered this class with basic knowledge of iOS that I taught myself last semester," said Nir Rachmel (CS'12). "In this class, I learned about different libraries that exist in iOS, from displaying maps to animation to peer-to-peer communication between multiple devices. On top of that, creating a real app for the iPad that has real value for people and is fun to use — it's a great reward."

Rachmel and his teammate, John Przyborski (CS'14), created "FlightStripes," which visualizes all domestic flights in the U.S. from the past year.

"We followed user-centered design principles and set a goal to develop an app that is intuitive, compelling and efficient," Rachmel said. "Visualizing more than 27 million entries, while following these principles is not an easy task and posed a great challenge for us that we managed to overcome using database optimization techniques and creative user interaction and visualization methods."

Presenting large amounts of information in a way that is intuitive, easy to use and aesthetically pleasing is a skill that improves with time and experience, Rachmel explained. And the instructors were key to helping the students develop this skill.

"Professor Kittur's presentations were always full of imagery and videos and revealed cutting edge technology and research. These lectures provided interesting insights and inspiration about visualization that I personally found intriguing."

The app Michael Kahn (CS'12) created visualizes campaign finance data from the 2012 United States presidential election.

Users can explore the finances of the 2012 race by candidate or by time and area, among other factors.

"The app can answer questions like 'Do different candidates get contributions from different areas of the country?' and 'When do candidates spend most heavily?'" explained Kahn.

"I had little previous experience either with mobile development or data visualization, and I found working on projects for the class to be interesting and educational," said Kahn.

Other apps provided a fresh way to look at your email history and even revealed worldwide military spending by country and continent, to name a few.

Rachmel says he looks forward to a career as an interaction designer and user-experience researcher in a consulting firm where he can apply what he's learned at CMU to real-world problems.

"I believe the principles I have learned in the master's of human-computer interaction program hold great potential in making people's work and lives easier, more enjoyable and simply making them happier," he said. "That, by itself, can create a huge impact."

Read more for iPad course details, watch the student project demos video and check out the course on iTunes U or on any iOS device with the free iTunes U app.
Related Links: iPad Course on iTunes U | CMU on iTunes U | Human-Computer Interaction Institute
---