The Business of Robots
CMU Robotics video playlist on YouTube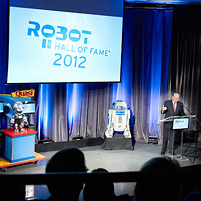 Four new robots were inducted into the
Robot Hall of Fame
(RHOF) during a recent ceremony at Carnegie Science Center in Pittsburgh — Aldebaran Robotics' NAO humanoid, iRobot's PackBot bomb disposal robot, Boston Dynamics' four-legged BigDog and WALL-E, the fictional robot of the namesake Pixar movie.
The celebratory event was one of the highlights of the
RoboBusiness Leadership Summit
, hosted this year by Carnegie Mellon University.
"The Robot Hall of Fame induction ceremonies are always great fun and have been a highlight of previous RoboBusiness events in Pittsburgh," said Dan Kara, chairman of the RoboBusiness Leadership Summit. "We love robots and we love to see their inventors and creators get the public recognition they deserve."
The robots were nominated by a group of 107 robotics experts, industry leaders and aficionados selected by the RHOF. In determining the winners, RHOF officials based half of the decision on a survey of the robot experts and half on public opinion based on 17,000 online votes.
"The technology and art of robotics are advancing at an increasingly rapid rate and so the Robot Hall of Fame also must evolve," said Shirley Saldamarco, RHOF director and a faculty member at CMU's
Entertainment Technology Center
. "As more students, workers and consumers become accustomed to robots, it seems like a natural step to give the public a voice in selecting inductees."
RoboBusiness is an international executive-level business development event for robotics technology innovators, influencers, developers and investors.  
Attendees of RoboBusiness enjoyed live demonstrations of the latest technology advancements in robotics at CMU, home to the world's largest university-affiliated robotics research center.
In addition, CMU-affiliated spinoffs and staff spoke at RoboBusiness including
Dan Siewiorek
, Buhl University Professor of
Electrical and Computer Engineering
and
Computer Science
,
Jim "Oz" Osborn
, executive director and co-founder of the
Quality of Life Technology Center
, a National Science Foundation Engineering Research Center operated jointly by CMU and the University of Pittsburgh,
Howie Choset
, professor of robotics,  and
William "Red" Whittaker
, director of the
Field Robotics Center
.
A leader in autonomous navigation, field robotics, computer vision, legged locomotion and other enabling and advanced technologies, CMU's
Robotics Institute
in the School of Computer Science is the first of its kind in the world, and remains as the world's leader in research, education and innovation in the field of robotics.
From
rescue operations
to
mapping mines
and helping drivers detect
roadside dangers
, from
assisting farmers in the field
to meeting the everyday needs of
older Americans and people with disabilities
, our robots are transforming — and
saving
— lives.
At CMU, students of
all disciplines
have the opportunity to work side by side with the university's "rock stars" like Whittaker, U.A. and Helen Whitaker University Professor
Takeo Kanade
, and
Raj Reddy
, the Robotics Institute's founding director and winner of the Turing Prize, which is the computer science equivalent of the Nobel Prize.
CMU's excellence in robotics has helped convince such companies as Disney, Intel, and Caterpillar to establish offices in Pittsburgh.
Bossa Nova Robotics
, a CMU spinoff co-founded by Robotics Institute alumnus Sarjoun Skaff (CS'01'07), aims to put a robot in every home by building the leading personal robot for the 21st century.
In typical CMU entrepreneurial spirit, the university's Robotics Institute has generated more than 40 start-up companies — like
Astrobotic Technology
— employing more than 1,000 people since 1998.

Greenlighting Startups is uniquely designed to support CMU's culture of entrepreneurship and new business creation. Learn more »
Related Links: Read more about RHOF Inductees | Slideshow: Robot Hall of Fame Ceremony | Robotics Institute | Greenlighting Startups | Assistive Robots | Engadget on RHOF | BigDog on YouTube | Nao on YouTube
---