New NOOK App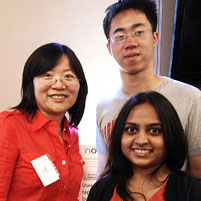 Pictured from left to right: Practicum team Xiao Pan, Shen-Hao Tsao and Neha Sinha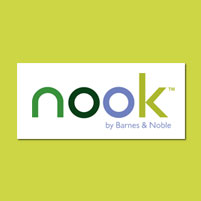 The work of Carnegie Mellon University students Neha Sinha (E'12), Sheng-Hao Tsao (E'12) and Xiao Pan (E'12) with Barnes & Noble has resulted in the recent release of NOOK for iOS 3.3 with Accessibility in the iOS app store.
The Carnegie Mellon University team's work on accessibility — including support for Apple's VoiceOver feature — headlined the new features of the iOS update.
The app — which is free and works on iPad, iPhone and iPod touch devices — has already garnered positive reviews for its innovative approach to improving ease-of-access to e-books for the visually impaired.
The three Software Engineering graduate students at CMU in Silicon Valley were enrolled in a practicum course that allows students to work for a Silicon Valley client as a capstone project.
The team, advised by faculty member, Edward Katz, joined with the Barnes & Noble Digital Products Team to address accessibility issues in the NOOK. Tom Terrill (E'08), engineering manager at NOOK and a CMU alumnus, led the effort.
"As a Carnegie Mellon alumnus, I fondly recall participating in a practicum as a student. I was eager to take advantage of this opportunity for the Accessibility project on NOOK for iOS, especially since I was already well aware of Carnegie Mellon's commitment to partnering high performing student teams with real world business projects," said Terrill. "The CMU campus at Silicon Valley did not let us down."
The team implemented accessibility support using iOS's accessibility application programming interfaces (APIs) that interact with VoiceOver. VoiceOver is Apple's screen reader engine for mobile devices that can read aloud several different formats of e-books and periodicals.
They also made user interface updates, such as voiceover navigation through the application.
Highlights of the new app include the ability for users to conduct actions such as logging in to their NOOK accounts, accessing their libraries to select reading material and navigating within books and periodicals — all without ever looking at the screen.
The team conducted several sessions of user testing with blind and partially sighted users over the course of the semester, resulting in features that better address users' needs.
"The students' work gave us a great base to build on in the area of accessibility and has led to broad recognition in the blind and partially sighted community of our efforts," said Terrill.
According to the Pew Research Center, at the start of 2012, 29% of adults in the United States owned a tablet computer or e-book reader.
However, 15-20% of the population has a visual disability that affects their ability to use these devices.
"I am really excited that we got the opportunity to make a difference in the lives of people with special accessibility needs," said Xiao, a member of the practicum team.
Related Links: Nook App for iOS | CMU in Silicon Valley | Software Engineering | Barnes & Noble
---