Early Career Award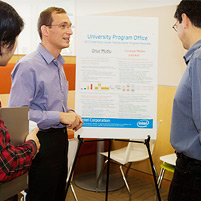 Onur Mutlu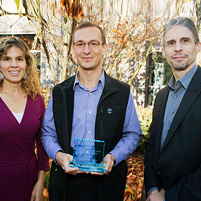 Carnegie Mellon University's Onur Mutlu has received the prestigious 2012 Intel Early Career Faculty Award for outstanding research and educational contributions in the field of computer architecture.

"I am honored and humbled to receive this award as I work with my students and collaborators to develop fundamental breakthroughs to enable future computer systems that are much more efficient, resilient, predictable and economical," said Mutlu, an assistant professor in CMU's Department of Electrical and Computer Engineering.

"We have been developing many new ways to solve efficiency, predictability and robustness problems and combat denial of service attacks so endemic in today's computer systems," he added. "My group aims to rethink the ways in which we design three fundamental functions of all computers, computation, storage (memory) and communication."

Intel's Early Career Faculty Honor Program award provides financial and networking support to those faculty members who are early in their careers and who show great promise as future academic leaders in disruptive computing technologies.

The purpose of the program is to help promote the careers of promising young faculty members and to foster long-term collaborative relationships with senior technical leaders at Intel.

The $40,000 award is designed to cover some research costs and travel.

"We are extremely pleased that Professor Mutlu is being recognized with this award. He is a uniquely talented researcher," said Ed Schlesinger, the Schramm Professor and head of CMU's Department of Electrical and Computer Engineering.

"Mutlu is pioneering developments in computer systems that will improve performance, lower production costs, as well as enhance programmer productivity."

Mutlu, who directs the SAFARI research group at CMU, reports that his group is developing microprocessors, computer memories and platforms that can efficiently and reliably store, manipulate and communicate massive amounts of data. They are designing systems to be resilient to potential cybersecurity attacks and failures by researching ways to make them much more robust and predictable. 

Mutlu's research has received several other prestigious recognitions, including numerous best paper awards and "Top Pick" paper selections by the Institute of Electrical and Electronics Engineers (IEEE) Micro journal.

In 2011, he received the Young Computer Architect Award from IEEE Computer Society's Technical Committee on Computer Architecture. And in 2012, CMU's College of Engineering recognized him with the George Tallman Ladd Research Award.

Before coming to CMU, Mutlu worked at Microsoft Research and spent summers at Intel and Advanced Micro Devices.


Bottom photo: Kimberly Sills, Manager, University Program Office, Intel, Onur Mutlu and John Somoza, Program Manager, Intel.
Related Links: College of Engineering | SAFARI | Intel Early Career Awards | CyLab | School of Computer Science
---