Women in Technology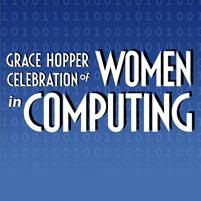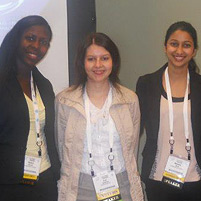 [l-r] Natalie Bennett, Luz Jaramillo, Nandita Rao Narla
It's one of the largest international gatherings of women in technology.

The Grace Hopper Celebration of Women in Computing offers a variety of educational and networking opportunities for women in high tech industries, U.S. government positions and academia.

This year, three alumnae from Carnegie Mellon University's Information Networking Institute (INI) were selected to present their unique academic experiences as a panel topic for the conference.

"In the past, the INI has attracted talented prospective students to our programs as a direct result of our participation in the Grace Hopper Celebration," said Dena Haritos Tsamitis, director of the INI. "This year, our efforts have come full circle. The INI is extremely proud to have had our alumnae represented among the conference panelists."

In their presentation titled, "Addressing Real-Life Problems through Academic Projects," Natalie Bennett (E'11), Luz Jaramillo (E'11) and Nandita Rao Narla (E'11) discussed the capstone project they completed for Carnegie Mellon's Disaster Management Initiative in which they created an app to help the emergency medical services community.
The three alumnae recently graduated from their bicoastal master's degree programs that were completed in part at Carnegie Mellon University in Silicon Valley.

"We had an amazing time working on a technology solution that would help people," said Bennett, who now works for Credit Suisse. "We thought telling the students about our project would give them new ideas for career possibilities. There are so many ways we can use technology to make a difference."

Credit Suisse was one of this year's conference participants. Amazon, Google, IBM, Goldman Sachs and Intel are just a few of the other major companies who also participated this year.

Bennett advised attendees to find something they're passionate about in their community and, if they need help on where to start with finding a solution, ask a professor for guidance.

"Find your voice and be confident in what you want to do, and if you're passionate about something, don't put yourself in a box of what society tells you should be or do," Bennett said. "You'll be surprised at the difference you can make."

Jaramillo, a Colombia native, joined an organized group of Latin women in computing whom she met through the conference. She strongly encourages women in computing to attend the event.

"It's a great place to meet people," Jaramillo said. "For me, the most valuable experience is having the chance to talk with senior executives at the conference and get their perspectives on how we can get better at doing our work."
Assistant Professor of the Practice Patricia Collins moderated the panel discussion. She is a member of the graduate studies faculty at Silicon Valley.
Related Links: Information Networking Institute | Women@INI | Disaster Management Initiative | Carnegie Mellon University in Silicon Valley | Grace Hopper Conference
---