Additional Major in Robotics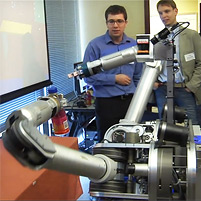 Students pursuing computer science, engineering or any other undergraduate degree at Carnegie Mellon University now have the option to include an additional major in robotics.

The university, through its acclaimed Robotics Institute, already offers more undergraduate robotics courses than any other university in the world and for the past 12 years has offered an undergraduate minor in robotics.

The additional major in robotics, however, responds to the growing interest of students in this multidisciplinary field and to demands by employers for more graduates with a deep understanding of this critical technology.

"The Robotics Institute always has been at the forefront, not only of robotic technology, but of the education of roboticists," said Matt Mason, director of the institute.

"We created the first Ph.D. and master's degree programs and the first undergraduate minor in robotics. Undergraduates already are an important part of the institute, working side by side with our researchers on some of our most exciting projects. Providing the option of robotics as an additional major just seems like the natural next step."

Many of the students interested in the additional robotics major will be pursuing conventional undergraduate degrees in engineering and computer science, said Howie Choset, professor of robotics and director of the undergraduate major.

But the program is open to students from any department on campus, he emphasized.

"Robotics is inherently multidisciplinary and interdisciplinary," said Choset, who also has led the undergraduate minor.

Current CMU students interested in the additional major should plan to apply for the program by Feb. 1 of their freshman year, though sophomores also are welcome to apply.

High school students and other non-CMU students must first apply and be admitted as a CMU undergrad before applying for the additional major in robotics.

The curriculum will include instruction on control systems, movement, machine perception, systems engineering and cognition and reasoning. Hands-on courses will focus on designing, building and programming robots.

CMU's Robotics Institute, the world's largest robotics education and research institution, was established in 1979. It is a leader in autonomous navigation, developing software that guides NASA rovers on Mars, navigating a self-driving SUV to victory in the DARPA Urban Challenge robot race and piloting an unmanned submarine to the bottom of the world's deepest sinkhole.

Its robots have explored active volcanoes, helped clean up crippled nuclear reactors and autonomously detected life in Chile's arid Atacama Desert.

Robotics Institute researchers are among the world's leading authorities on computer vision, perception, motion planning, human-robot interaction and locomotion.
Related Links: Additional Major in Robotics | Robotics Excellence | Robotics Institute | School of Computer Science | Undergraduate Admission
---