Reefbot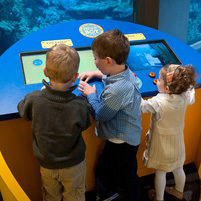 The Pittsburgh Zoo & PPG Aquarium's Open Oceans tank is home to a vast array of sea life. At two-stories, it holds 100,000 gallons of salt water and 30 species.
Oh, and one submersible robot named CLEO.
CLEO just may hold the key to unlocking the mysteries of our deepest reefs. Helping CLEO get there is an unlikely team — pioneering Carnegie Mellon University roboticists, zoo aquarists and the zoo's visiting children.
Young visitors to the exhibit use a control station to remotely pilot CLEO — short for "Children Learning through Education and Observation."
Using CLEO's HD video camera, the children can track fish and snap photos. They are then encouraged to identify the type of fish photographed using reference photos.
But the young explorers aren't simply exploring ocean life. They're helping researchers at CMU's Robotics Institute develop software as part of the ReefBot project.
One day, scientists may use the software to automatically detect, classify and count fish in their natural habitats.
CMU's David Wettergreen, associate research professor of robotics, oversaw the project. Ph.D. students Mark Desnoyer, Michael Furlong and Scott Moreland and senior research engineer John Thornton built the robot and developed the software.
Though humans are identifying the fish based on photos, Wettergreen says they're also helping to train CLEO. Essentially, the children are helping CLEO learn sets of attributes that it can associate with particular species.
"It might be the size of a fin and the color of a tail that identifies one species and the pattern of stripes and the body shape that identifies another," he said.
"But in fact some of the attributes CLEO learns might not be things that people would even recognize, such as ratios of properties."
Wettergreen said scientists who study deep coral reefs might be particularly interested in the technologies being developed for CLEO.
In contrast to corals that flourish in shallow, tropical waters, these deep reefs are difficult for human divers to study in detail. The reefs are threatened with extinction because of rising ocean temperatures and changing ocean chemistry.
"CLEO moves too slowly to chase fish or cause any damage to itself, the tank or the sea life," said Moreland.
And navigation software includes safeguards to prevent the tethered submarine from getting caught in crevices, caves and obstructions.
ReefBot is a joint project of Carnegie Mellon University's Robotics Institute and the Pittsburgh Zoo & PPG Aquarium. Funding is through Spark — a program of The Sprout Fund, a nonprofit organization that supports innovative ideas and grassroots community projects in Pittsburgh.
Related Links: Reefbot.com | Robotics Institute | School of Computer Science
---