Pothole Patrol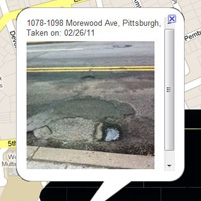 A screenshot of the Road Damage Assessment System (RODAS) Project website
Potholes. They're as much a sign of spring as the robin — but not nearly as welcome.
A new Carnegie Mellon University project enables the public to take an active role in monitoring them.
And it's as easy as logging into Facebook and uploading a photo.
The Road Damage Assessment System (RODAS) Project, enables anyone to click a photo of a pothole and upload it via Facebook.
The system then links the photo to a pinpoint on its online map. There it creates a public repository of road conditions.
The hope is community members will keep an eye on "their" potholes — updating the site to report on progress.
"With government budgets becoming increasingly tight, we need to figure out new ways of addressing road maintenance problems," said Robert Strauss, professor of economics and public policy in CMU's Heinz College.
"We are creating a secure, independent source of information about potholes that can be used to alert government agencies and to monitor their response."
The RODAS Project, headed by Strauss and Takeo Kanade, professor of robotics and computer science, began last summer.
Veronica Acha-Alvarez, a Heinz College graduate student in public policy and management, said it is patterned after a successful program in her native Chile.
The program includes contests coinciding with elections that seek to identify the largest potholes. Since the program began, road conditions have noticeably improved, she said.
Todd Eichel, a recent graduate of Carnegie Mellon's Masters of Information Systems Program, joined the project in late December and implemented the system.
By using Facebook, he explained, the project enables people to use any cell phone that can identify the GPS coordinates of the photos it takes.
The RODAS Project currently relies on pedestrians to photograph potholes. But Kanade said one goal is to create apps that use voice commands to snap photos.
That might greatly extend the reach of the system by allowing drivers to mount their cell phone to their windshields and capture pothole photos as they drive.
Further down the road, it might be possible to create automated video systems that could continuously and automatically create maps of road conditions, including snow and ice removal.
The project has received seed funding from the Pennsylvania Business Council's PBC Education Foundation and the Pennsylvania Boroughs Association through its Chrostwaite Institute.
Related Links: RODAS Project | Heinz College
---