Robopocalypse
Daniel Wilson talks about growing up, writing fiction, making robots, and Robopocalypse.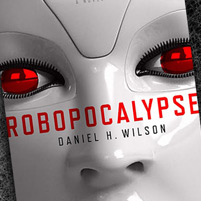 Daniel Wilson
When Carnegie Mellon University alumnus Daniel H. Wilson dreams, he dreams big. DreamWorks big.

The major film studio has already bought Wilson's debut novel, Robopocalypse, with Steven Spielberg on board to direct.

Already a New York Times best-seller, the book is a sci-fi thriller of survival in a world where technology has turned against us.

"I wanted to examine the fear that we have of depending too much on technology," explained Wilson, who earned his Ph.D. in robotics at CMU's Robotics Institute. "And, of course, use all the awesome man-machine scenarios that I'd dreamed up over the years."

Stephen King calls the book "terrific, page-turning fun." Clive Cussler says it's "a brilliantly conceived thriller … unlike anything I've read before."

Wilson's love of all-things-robot began with childhood toys and science fiction novels. But it crystallized in college when he discovered artificial intelligence, leading to an eventual doctorate.

"I realized that robots are an incredibly powerful tool because you don't make them to solve a known problem," he said. "You build a robot to learn to solve a problem neither of you have ever seen."

"I chose the CMU's Robotics Institute for my Ph.D. because of the breadth of the program," he added. "The RI had talented people who were working on most everything."

So how did a successful robotics engineer become a successful author?

"It felt like the right thing to do," said the multi-talented Wilson (CS'03, '04, '05). "I love writing every single day. It's very natural for me."

And CMU was just the place to explore his varied interests.

"During my time at CMU I was able to work on projects in so many areas," he noted. "Robotics, speech recognition, human-computer interaction, statistics, gerontology and more. And I learned to draw on the expertise of others, which definitely improves my writing."

Wilson says he sometimes misses the 'objective feeling of accomplishment' from science and engineering, but branching into diverse fields from writing to TV-hosting has its own obvious reward.

"It's an incredible feeling to know that my project is in the hands of the best of the best," he said. "Trust me, I'll be first in line with a bucket of popcorn the day the movie opens."

The film's anticipated release is 2013. Read Wilson's latest news at www.danielhwilson.com and follow him on Twitter @DanielWilsonPDX.
You can hear the latest from Daniel when he joins CMU experts from the worlds of entertainment, artificial intelligence, robotics and human-computer interaction in a panel discussion about robots and our future.
Learn more »
Related Links: CMU Robotics Institute | Purchase at Amazon | Daniel at RoboU
---