Exploring Civil War Sites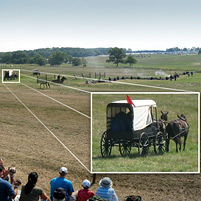 How's this for a staycation? You don't even have to go outside in the record heat.

Interactively explore nine panoramas of Civil War sites in Gettysburg and other Pennsylvania locales featured in this month's issue of GigaPan Magazine.

GigaPan Magazine is an online publication of the CREATE Lab at Carnegie Mellon University's Robotics Institute.

Viewers of the panoramas can survey the Cemetery Hill and Cavalry East battlefields and browse through the galleries of the National Civil War Museum in Harrisburg, Pa.

You can also visit the restored graves of African-American soldiers in Columbia, Pa., among other sites.
     
The large, high-resolution images were created using GigaPan technology developed by the CREATE Lab and NASA.

They were produced for the Civil War Trails project, a collaborative initiative between the National Civil War Museum, the Pennsylvania Department of Community and Economic Development and CMU. 

The magazine's collection of panoramas was guest-edited by the director of that project, Laura Tomokiyo, a project scientist in the Robotics Institute.
     
The issue commemorates the events of the July 1–3, 1863, battle at Gettysburg and was inspired by Tomokiyo's own experiences when she was a high school student in North Carolina.
     
"Under the leadership of an exceptional teacher, our class traveled to Gettysburg and marched across the battlefield," she recalled.

"I would wish that all young students could have similar experiences and hope that our virtual presentation of the places of importance in the Civil War can provide similar experiences for today's youth."
     
GigaPan Magazine explores the way that gigapixel imagery can deliver information, convey messages, tell stories, express emotions and otherwise carry meaning.

GigaPan technology produces these images by using a robotic camera mount to take multiple digital images of a scene and then using software to stitch the digital images into a single panorama.

The GigaPan website, www.gigapan.org, provides a means to store and share these large datafiles.
Related Links: GigaPan Magazine | Civil War Trails | CREATE Lab | Robotics Institute | About Larua Tomokiyo
---